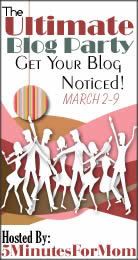 My friend Autumn blogged about this Ultimate Blog Party. A very cool concept to get your site noticed and to meet new people. Click the image above to learn more about the ultimate Blog party.
One of the suggestions for the ultimate blog party was to put out snacks for your guests. Well here is what I am putting out for people to munch on.
One of my favorite Recipes –
Poor Man Truffles
Ingredients: Rolos, Pretzel Snaps (great base) and salted almonds.
2. Put a sheet of aluminum foil on a baking pan, grease lightly with butter.
3. Heat oven to 350 while you lay out the pretzels with rolos on top.
3. Once all pretzels and rolos are laid out put in the oven for 3 1/5 minutes.
4. Squish almonds on the tops.
5. Let tray cool a bit on the oven top.
6. Put tray in the fridge for 10 minutes.
7. Remove from tray (should not stick.)
8. If you make a second tray only put that one in for 3 minutes. The oven is really hot by now.
Make your own variations with this, some we have done are M&M's and Hershey Kisses (5 minutes in the oven for Hershey's Kisses, they are solid and take longer to melt.).
Originally posted by me on The BenSpark – Monday, December 19, 2005
What you also need for a party is drinks. I gotta tell you about Soda Club USA. Allison and I have a Soda Club Penguin and we absolutely love it.
Music, gotta give folks some tunes at a party. So here are some Artists that I enjoy.
Christopher Williams, Ellis Paul, Antje Duvekot and Jake Armerding.
And what is a party without pictures… Dull, I tell you. Get some pictures for your site Every Day!
That should keep you hopping and bopping throughout the party.
Copyright (c) 2019 BenSpark Family Adventures