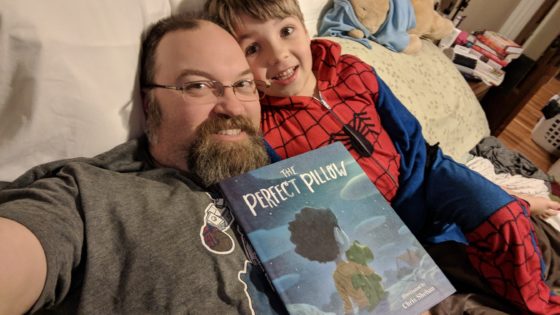 Photo-A-Day #4682
I often receive books for free from Disney Publishing to read and review. The opinions expressed are my own.
This is an adorable story and perfect for any child who has just moved to a new house or into a big boy or big girl bed of their very own. The story is of Brody, a young boy who is in a new home in a new big bed. However, he is not finding it easy to get to sleep and so he and his stuffed dragon, Horst, go on an adventure in search of The Perfect Pillow only to end up back in their new house and new bed. It is a good book to read to a child who is making that transition from something familiar to something new and possibly strange and scary. It takes Brody and Horst a while to get acclimated to their new normal.
I love the character of Horst. I personally am a huge fan of dragons, especially friendly ones. While Horst never actually says anything the illustrations bring our a personality there of a friend who has been with Brody through everything. Every skinned knee, scary moment and joy that Brody has had he has shared with Horst.
When Eva was young I bought her a stuffed dragon. She never quite took to it but then again she's got a ton of stuffed animals. So, the dragon went to Andrew and again the same thing. This was not a stuffed animal that would become his confidante. There are just too many in the house. When I was a boy I had a teddy bear that I took with me all over. He's battered and worn as a Teddy with a lot of life experience should be. The book did tap into that emotion of having that security to help you through something new.
The Perfect Pillow is a good read with beautiful illustrations and a nice story. It is also available today and you can purchase it through my amazon.com link below. And there is also the official book release for more information. Continue reading Book Review: The Perfect Pillow →