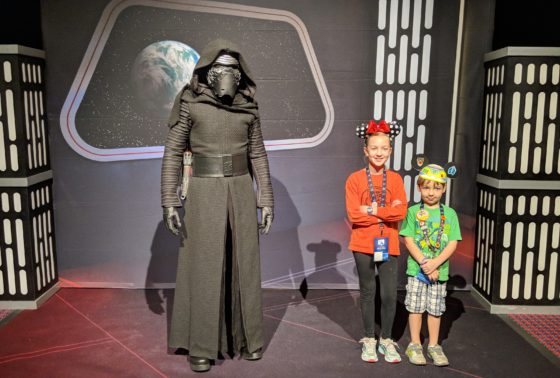 Photo-A-Day #4699
Our family had the unique opportunity to be invited to the Disney Social Media Moms Celebration at Walt Disney World and on board the Disney Dream. This is a conference that we paid to attend. During the Celebration we received experiences and gifts that were beyond the scope of a typical Disney vacation. I will mention those as I discuss them to properly disclose any of those extras.
On this day we headed to the Disney Dream for our first cruise ever. but, before that we had a Star Wars themed breakfast at Coronado springs. These breakfasts had character meet and greets and today's included Kylo Ren and Chewbacca. Meeting the two characters couldn't have been more different. We met Kylo Ren first. Kylo does not do hugs nor any autographs. the kids were a bit disappointed in that but the photos with Kylo were pretty funny. Neither one of the kids wanted to get that close to him. Who could blame them, he was a bit intimidating.
Chewbacca doesn't do autographs but he does do giant bear sized hugs and that is cool. Each of the kids had their photo with Chewy but I really like the family one that we got. I was Disney Bounding today. I was trying to do a Disney Bounding as a Steampunk Star-Lord which represented Disney Cruise Lines Marvel Day at Sea. This outfit would prove to be a bit more of a hassle then anything else. I think I overdid it with the suspenders and bag strapped to my leg. Despite that I thought it looked pretty good.
After our Star Wars themed breakfast, complete with blue milk and Bantha bacon we boarded the buses to the port. We got on the bus with our new friends Kevin and his family. He has two daughters and Andrew and Eva both became fast friends while Allison sat with Kevin's wife Jenn. We had a nice conversation all the way to the port. Continue reading Embarking Upon the Disney Dream for A Three Day Cruise →