Photo-A-Day #4199
Today was Eva's 9th birthday and we celebrated by going to King Richard's Faire. That was after I had taken Eva for our yearly birthday breakfast. This was the first time in three years where it went off without a hitch. No flat tires, no conflicting plans. Just a nice breakfast with Eva.
Then we went to King Richard's Faire as a family. We were provided free tickets to the event in exchange for coverage of the event and a review. Opinions of the event are 100% our own, and it is something that we have done for the past 5 years as a family and we've made some nice friends at the Faire. Eva was greeted with a birthday song from the residents of Carvershire. We were also there with our good friends, The Walkers. We started off our adventure at the Princess school and the kids had a great time. Andrew built a block castle and played card tricks with a young man. Eva and Rose enjoyed their time with the princesses.
We then went and saw the Mis-Adventures Swashbuckling, Swords & Hilarity show, which was so much fun. The kids got to go up on stage and have some fun. We do like this show, it is very cute and funny. Some good humor for the parents and for the kids.
We checked out the Imaginarium Galleries after this because that is where we got the kids' Drabbits last year. They love these adorable little puppets and wanted to see more of them. We were happy to see that they have a larger space this year and it is more permanent.
I took mostly video this year to make the daily vlog
We saw the Trash or Treasure – Fractured Fairytales for All show which also had audience participation for the kids. This show takes fairy tales that you know and love and makes them a bit… different. Lots of improv and humor in this show.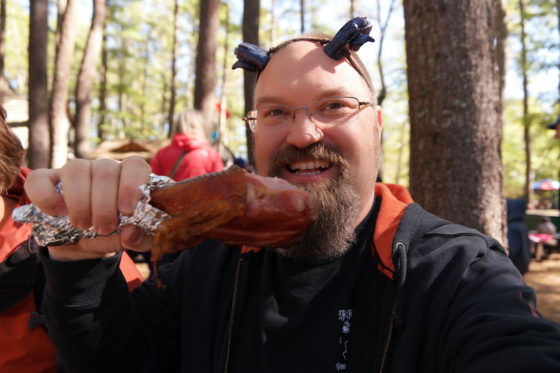 We stopped for lunch and had a Turkey leg, some chicken fingers, a chowder in a bread bowl and more. Lunch was nice and it is still a bit of a confusing point of the day. Trying to get everything that we like in the least amount of lines and trips is the biggest challenge, but we've gone and gotten pretty good at it over the years.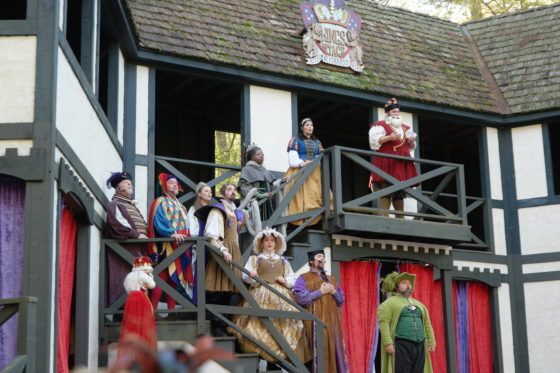 We saw the King's Tournament after lunch and also a visit to the King's Stage to see Act II of the musical show which was called Weekend at Richard's and this year our friend Ryan who has been Piers the Purveyor of Pickles for years has moved up to one of the main cast members in the role of King Hector. When we learned of this we were so happy and couldn't wait to see him in action. We were not disappointed. The Musical Comedy show was excellent and Ryan was fantastic. He certainly does have comedic talent.
In between seeing all the shows and other things we found some fun things to buy. I got Ram Horns and Andrew got twisted little purple horns.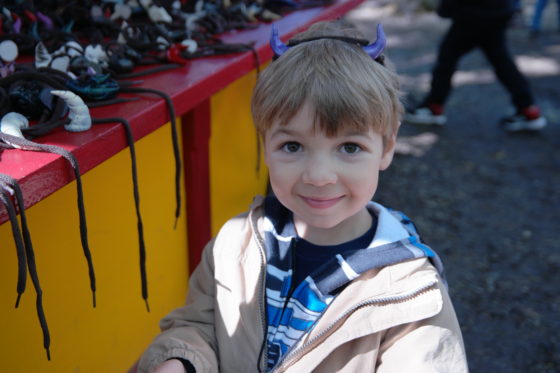 The kids got new necklaces from the Drabbits store. We finished out the day with some Ice Cream for dinner to celebrate Eva's birthday and then when we got home we gave her the major gift that we've been sitting on for months. We got her tickets to go see Lindsey Stirling in Boston which is part of her Brave Enough Tour. Eva was so excited about that. She was also excited to see that we had gotten her the album as a download and for Andrew to give her a Hermione Granger Funko Pop figure. She was even treated to s surprise call with her pen pal Paige. It was a great day.
Copyright (c) 2020 BenSpark Family Adventures