Photo-A-Day #2923
Today I got to tour Pixar and meet a bunch of talented and amazing people. I also spent the day with some incredible bloggers. This was a once in a lifetime sort of trip to a place does such incredible work. I was amazed and inspired and impressed all day long. I'll be writing about what we did all day in a bunch of posts over the next few months. Today I want to focus on the kickoff to Year 9 and yeah I'm now 39!
There were so many great things to photograph but not many that I could photograph myself and also be in the photo. I've been trying to be in the Kickoff Photo for the past few years. At Pixar there was a fun statue of Mike and Sulley that I used to take this shot.
I love how Pixar transforms their common area to coincide with their latest film. The whole atrium was transformed to look like a college dining hall and student lounge. There were many fun things to see and to do. I got to go into the Scare Machine and scream like a monster. I did really well, too. I spent a little money at the Pixar Studio store and got the family some nice shirts. There wasn't one in a color I liked in my size or I would have gotten one for me, too, so I got a hat instead. I also got a very cool swag bag full of fun stuff including my first Disney Infinity figure, Mike Wazowski! I also got to see a fantastic demo of the Disney Infinity game, which looks like A LOT of fun! There were some other cool things as well, check out this photo.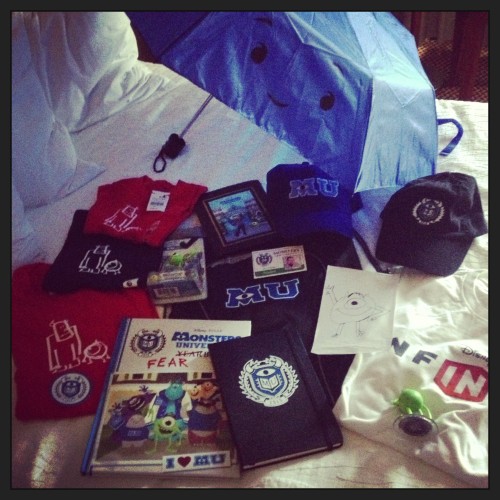 We did so many fun things and then went for a tasty dinner at Chevy's Mex where myself and Matt Blum of Geek Dad each got Mexican sombreros and a song in honor of our birthdays. His is tomorrow.
It was a good day, it would have been better had I been able to spend it with my family. I received a slew of birthday wishes and even some birthday videos from the kids. It was a good day.
Copyright (c) 2020 BenSpark Family Adventures