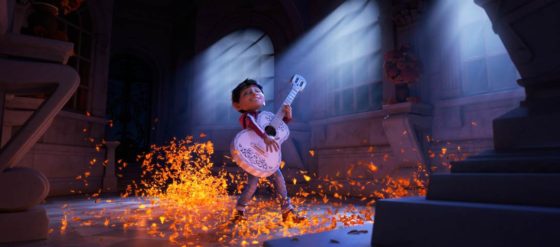 This looks like a rather interesting movie that I'd like to see. In the story the young boy, Miguel dreams of being a musician like his idol. However, his family has a ban on music. I'm not sure if it is a ban on playing music because obviously Miguel must at least listen to music in order to have an idol that is a musician. The movie looks the be colorful and bright with an extensive cast of interesting characters. You can see the teaser trailer here and then more movie information below including the movie poster.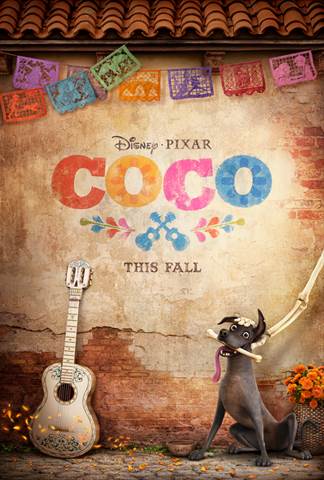 Voice Cast: Gael García Bernal, Anthony Gonzalez, Benjamin Bratt, Renée Victor
Director: Lee Unkrich
Co-director: Adrian Molina
Producer: Darla K. Anderson
Despite his family's baffling generations-old ban on music, Miguel (voice of newcomer Anthony Gonzalez) dreams of becoming an accomplished musician like his idol, Ernesto de la Cruz (voice of Benjamin Bratt). Desperate to prove his talent, Miguel finds himself in the stunning and colorful Land of the Dead following a mysterious chain of events. Along the way, he meets charming trickster Hector (voice of Gael García Bernal), and together, they set off on an extraordinary journey to unlock the real story behind Miguel's family history. Directed by Lee Unkrich ("Toy Story 3"), co-directed by Adrian Molina (story artist "Monsters University") and produced by Darla K. Anderson ("Toy Story 3").
Like COCO on Facebook: https://www.facebook.com/PixarCoco
Follow COCO on Twitter: https://twitter.com/pixarcoco
Follow COCO on Instagram: https://www.instagram.com/pixarcoco/
Visit the official COCO website here: http://movies.disney.com/cOCO
COCO opens in theatres everywhere on November 22nd!
Copyright (c) 2020 BenSpark Family Adventures