Photo-A-Day #2653
This morning I headed up to Hopkinton to meet up with Rob Merlino, The Hot Dog Man, at Snappy Dogs. Snappy Dogs is a trailer behind Colella's in Hopkinton, MA (Rt 85). The really nice thing by behind right behind Colella's is that they get the freshest most tasty buns I've had so far on the National Hot Dog Tour. They are delicious! But I'm getting ahead of myself here. Let's start with me arriving and seeing Rob helping set up for the day.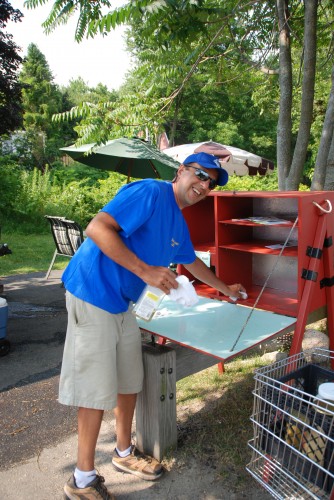 Rob has been a guest dogger at Snappy Dogs in the past so he knew what to do to get the place ready for opening. The Snappy Girls Lisa and Teresa are a hoot, they are so into making Snappy Dogs the place to be. They have an amazing array of relishes and each Friday they have a special dog. This Friday they had the Paradise By The Dashboard Light Dog.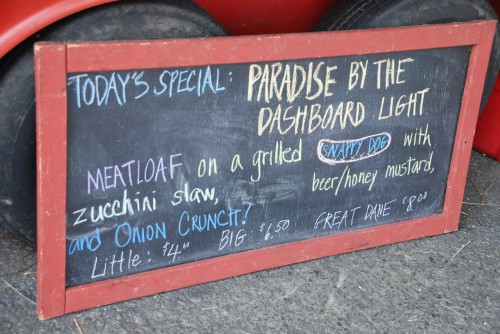 Rob issued a challenge to the Snappy Girls to create a Friday special dog using Pearl Jalapeno franks, Colman's mustard and Onion Crunch. What they came back with was out of this world.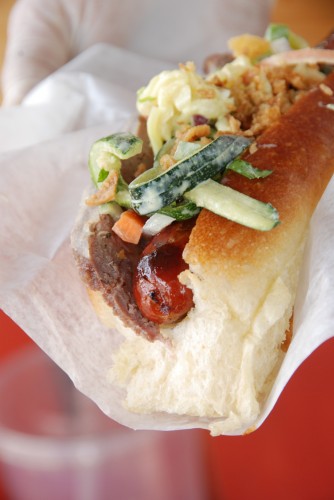 This dog had a great blend of flavors, Meatloaf and a jalapeno hot dog, inspired! The beer/honey mustard with a Colman's mustard base was a great bit of flavor as well and then the crunch came from the zucchini and the Onion Crunch. Everything together certainly earned the name of Paradise.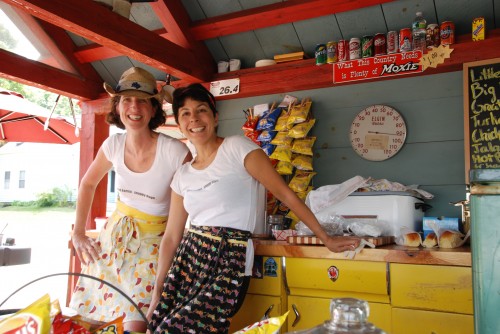 Teresa and Lisa were so nice. They run a wonderful trailer and serve excellent food. It was nice to meet them and I appreciate the hot dog, too. I had to leave early and went off to give the video memory cards to Rob and completely forgot to go back and say goodbye to the Snappy Girls. I will have to come on back for another dog and bring the family too.
Rob had a continued adventure at Snappy Dogs today but he wrote about that on Hot Dog Stories. Go read it.
Copyright (c) 2020 BenSpark Family Adventures