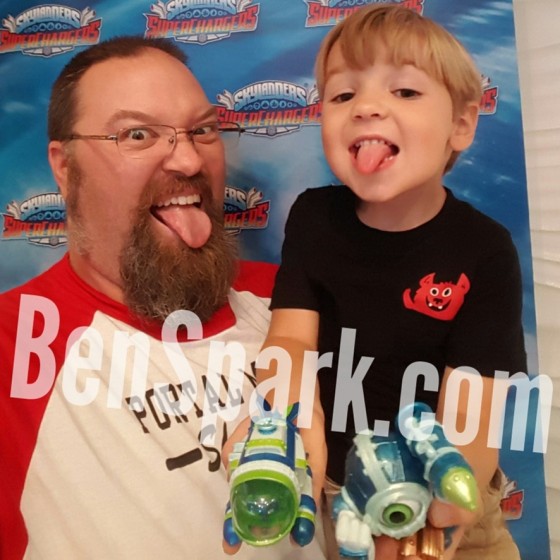 Photo-A-Day #3813
Andrew and I took an epic trip down to New York City today. We were invited to a Skylanders SuperChargers Playdate and we were provided with the tickets for the train ride down and back from the PR firm for Skylanders. I have worked with those folks for the past 5 years on Skylanders and Promoting Skylanders. I am under no obligation to write about the trip but I want to tell you about what a SuperCharged day it was. Oh and the Skylanders Shirt that I have is mine that I made through a review I did a long time ago. I've never gotten a Skylanders Shirt that fits me.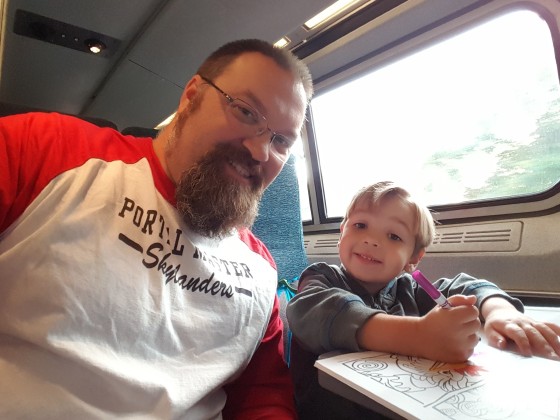 We took the 6:50am train out of Providence and headed to New York. Andrew was up early again and I got up right before my alarm and nearly bowled him over int he hallway. He was exited. "Are we going to New York Today," he asked. Yes, indeed we were. He was great on the train. He played games on the iPad, colored and ate lots of snacks. Three of his favorite things. When we got off the train in New York I put in the umbrella stroller and headed up to Times Square. He fell asleep two blocks up from the train station.
Andrew then proceeded to sleep for the next two hours. I didn't mind because I was able to get up to Times Square quickly. Then I sat by the red steps and people watched until some smoker sat next to me so I moved and headed to the Disney Store. Andrew remained asleep.
I decided that I would take photos of Andrew at various places around the Disney Store. In front of the things that he would really like. I did that for a while and then Andrew woke up and was so surprised to be surrounded by Disney stuff. He got out of the stroller and walked around for a while. Then we heard that there would be a special drawing session in an area of the upstairs. Andrew and I went over to this area and he got to draw Nemo from Finding Nemo.
He loves to draw. He's enjoying that more and more. This would be the first of the four or five things that he would create today. He was hungry and so was I so we headed over to a BBQ place called Virgil's.
At Virgil's Andrew had Flat Dogs and I had a delicious brisket. I had Andrew try the brisket but his palate is clearly for that of Hot dogs. He drew something fun on the kids menu that we also brought home with us. Virgil's is right by the Times Square Toys R Us and we had to go there for our Annual Ferris Wheel ride.
I love doing the Ferris Wheel with Andrew. He enjoys being able to go on the ride and see everything around the store. We did it for the first time last year and I knew that we ha to do it again. From the Ferris wheel we could see the Skylanders area was about to get a massive makeover in time for Sunday's Launch of Skylanders SuperChargers.
We walked around the Toys R Us for a while and saw a bunch of fun displays. Andrew gave me his best Hulk impression. Then it was time for us to head down to 26th street to go to the Flatiron Hotel for the Skylanders SuperChargers Playdate. However, we were early so we went over to the Madison park playground where Andrew played on the equipment and then did a painting of a couple of trees. He did an excellent job. So we took those home as well, once they dried.
The Skylanders SuperChargers Playdate was amazing. We had such a great time and there were a ton of the new toys to play with. Andrew took to this game quite quickly. He was all about playing the racing games even though he didn't fully understand how to play. I do think that once we begin playing together we will have a whole lot of fun.
There were some fun activities at the playdate. There was a make your own SuperCharger vehicle out of Twinkies that Andrew went to almost immediately. He made one but somehow that got lost. That is okay, I didn't want to take a squished Twinkie car on the train or have him eat it and be bouncing off the walls. There was enough stimulation in the room that we didn't need any more.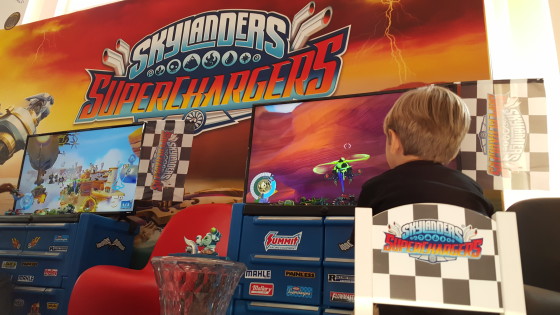 I even got to play the game. I played on the PS4 and it was a different feel but I soon got used to it. After my first race I kept coming in first against the three other players who were also in the room and on their own PS4 consoles. Granted they were little kids but I kicked their butts.
I got to take a bunch of shots of the new figures and hold them and play with them. The vehicles all have some sort of play-ability factor. If they are land vehicles they will drive and the air vehicles either move their rotors or propellers or more. The Sea vehicles do their own things as well.
One of my all time favorite characters is Gill Grunt. He's back as a SuperCharger and he looks pretty good. Sea Shadow is the vehicle for Nightfall but she won't be released to later. It is a cool vehicle though.
One really fun thing that happened was that I got to talk to Guha Bala, the president of Vicarious Visions. He is such a cool guy. He even let Adam Cohen and I record a podcast for Dad.FM. You can hear the whole interview with Guha Bala on Dad.fm. Guha was kind enough to pose for a photo with me and Andrew as well as Adam and his son Marc. I also spoke with him so many other times during the event. He was so nice to talk to.
Adam was great to take some photos of Andrew and I playing Skylanders SuperChargers. I love these photos of us. Adam really captured the moment.
The Playdate was amazing. We had so much fun and I loved every moment with Andrew. He behaved so well and was fun to watch. He's starting to come into his own.
Copyright (c) 2020 BenSpark Family Adventures