Photo-A-Day #3135
Today I took the train down to New York City to attend the Activision Family Game Summit. At last year's Activision Family Game Summit I came down to NYC with the whole family and we had a fantastic time. The event was also excellent this year for entirely different reasons. I went down on my own this time and got to spend a lot of time with my friends Adam Cohen (DaDaRocks.com) and Jeff (OutWithTheKids.com). I've been down to events in New York for the past couple of months and haven't had much time to really talk with these great guys. My last trip to NYC was a train ride fiasco and I totally missed spending any time with those guys but this trip we got to really hang out for a decent amount of time.
And.. I made sure that this time I got into some photos and we did some of those red carpet type ones.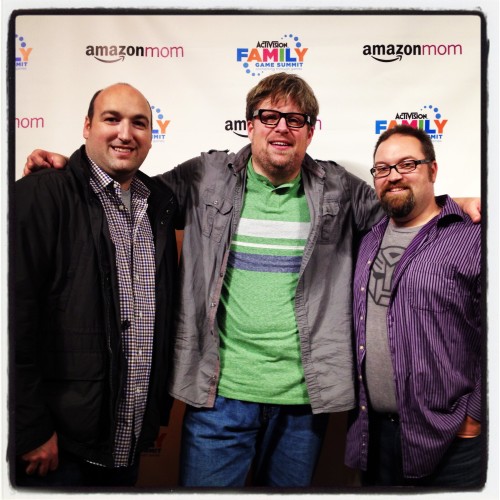 The Summit itself was very good. This year they had costumed characters there to take photos with the kids and adults. The costumes were awesome, too. The Teenage Mutant Ninja Turtles guys were excellent and there was Sponge Bob and Katsuma from Moshi Monsters. Jeff was there with his two girls and they had so much fun. they got photos with their favorite turtles and played the games and it was excellent for the kids. I wish I had been able to take Eva down for this one. Maybe another year. I did get my photo taken with Mikey from TMNT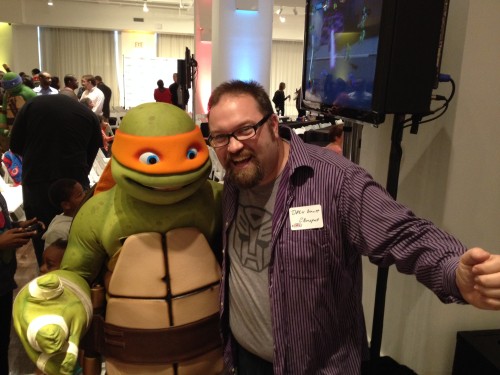 There were excellent demonstrations of the games and I got excited about a few. The one I really wanted to play was the TMNT one. I was disappointed that it wasn't made for the Wii U, though, just the Wii. I want to see the game in High Def. I did get a copy of the game for the 3DS and I brought our 3DS specifically so I could play it on the train ride home… after I do my work, like this blog post. I'll do a swag bag video when I get a moment and let you know what I walked home with and there may be a few surprises. So, if you aren't subscribed to my YouTube Channel then I'd suggest you do so. Don't want to miss this.
Copyright (c) 2020 BenSpark Family Adventures