Photo-A-Day #2776
*This is day two of our New York Adventure*
On most trips for blogging I go alone. I've never taken the family on any major trip to a blogging event since I've been doing this. We did go on one trip to Orlando for IZEAFest back in 2009, so okay we did do it once before but that was Orlando, we'd been there before as a family. This was New York City and we were going by train and then staying in the city. The kids had never seen a huge city before, never seen skyscrapers and all the activity. Sure we've been to Boston and Providence but that does not compare. We were going to be taking subways, seeing sights and doing all sorts of things that we had never done before as a family. It was certainly an adventure. On day two of the trip the adventure continued to the Activision Family Game Summit.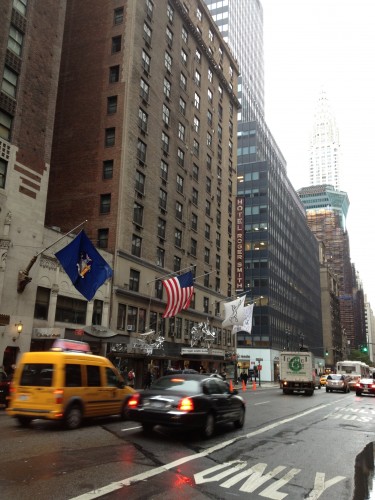 We had a nice lazy morning. After all the walking from the previous day and a not so perfect night sleep because of Andrew we decided to sleep in. Well, actually, I let Allison sleep in while I wrangled the kiddos. It wasn't hard, there was tons of room for Andrew to crawl and Eva started making special drawings on the Roger Smith Hotel notepads. She used the Crayola Trace and color app to make our family and then she colored them with crayons. I thought that they came out great.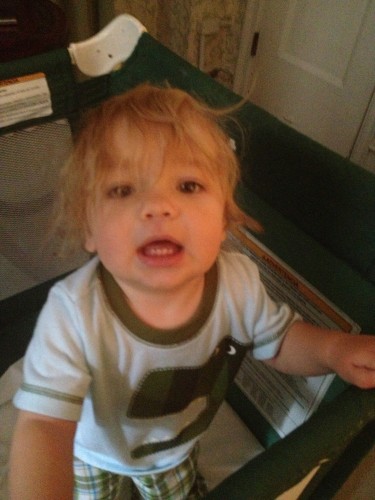 Andrew was enthralled by, of all things, Barney. there weren't many stations and the remote didn't quite works so great so I parked it on PBS Kids for the morning and we just hung out. Andrew was all over the place except when that purple dinosaur appeared. He was transfixed. Oh no! But it kept him quiet for a while. We colored and read and played. When Allison woke up we got Andrew back down to sleep and I wandered for food. There was a pizza place across the street that made Egg sandwiches. I picked up a few for us and then some coffee and pastries at Starbucks. Brought everything back to the room and we had a great breakfast together. Then we got ready to go the the Metropolitan Pavilion for the Activision Family Game Summit.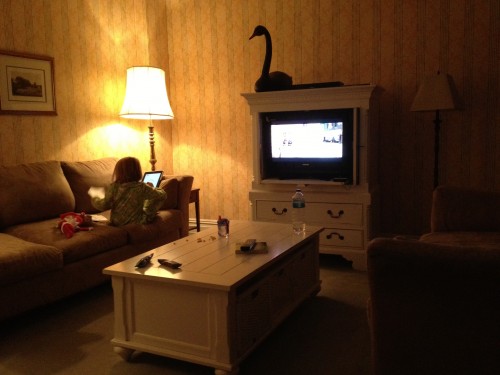 A quick walk up the street to catch the subway that would take us to down to the summit and we were off. Seeing the city through the eyes of the kids was incredible. Eva is such a force for goodwill. She had people smiling and waving and talking to her. We were going down the escalator to the subway and there were two gruff looking guys trading cigars and they smiled and waved over at Eva as she smiled at them. I mean, how does this happen? It happened with so many people during our trip. Allison and I were blown away.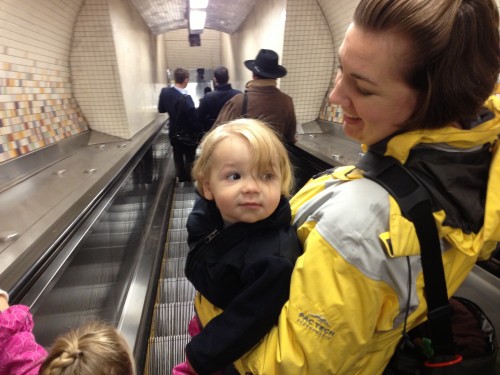 We arrived at the Activision Family Game Summit and were immediately welcomed. The staff that put together the event were top notch and they even had brought in a babysitting service to play with the kids while we were at the Summit. Allison and I signed in the kids and brought them to the room where they were going to be for the afternoon. There were some color on playsets including a castle and a rocket ship. There were crafts to do and snacks for the kids. There was a baby area for Andrew and he had people playing with him for the whole time, too. They had a great time during the event.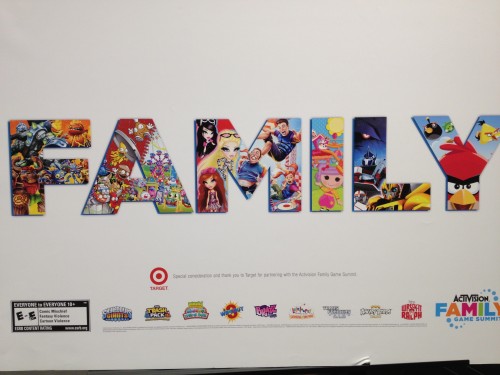 The Activision Family Game Summit was about to get underway when Jeff from Out With the Kids came over to me. He had with him a Skylanders Giant Hot Head that he gave to me. He and I have been chatting on Twitter about Skylanders and he saw a Hot Head at his store and WENT BACK to get it for me. What a great guy. It was great to meet him, too. I love getting a chance to meet people that I've spoken with online who love what I love.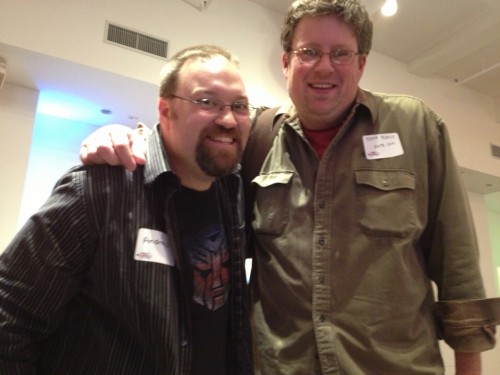 The panel started and on the panel were Soleil Moon Frye (@Moonfrye) (Best known for starring in Punky Brewster, but also very big online and an Author to boot), Nicole Armstrong (@ATVI_Family) the Marketing Director of Activision, Patricia Vance (@OktoPlay) the President of the ESRB and Suzanne Kantra (@Techlicious) from the Techlicious Blog. These were some very smart women talking about fun and family friendly video games.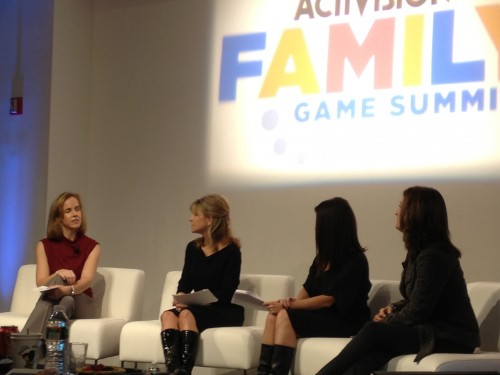 We learned about a ton of titles including:
Lalaloopsy: Carnival of Friends
Bratz: Fashion Botique
Moshi Monsters: Moshlings Theme Park
Transformers Prime
The Trash Pack
Wreck it Ralph
Wipeout 3
Angry Birds Trilogy
Skylanders Giants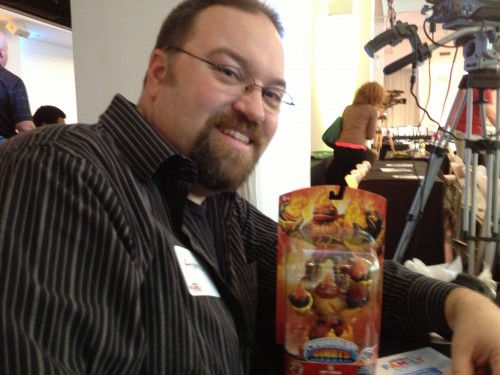 And after the panel and the Q&A they brought out a bunch of Nintendo 3Ds and Ds devices, some XBox 360's and some Wii U devices. I held off playing any games until after I could get a photo taken with Soleil Moon Frye and have her sign a copy of her book Happy Chaos, which was in our incredible Swag Bag (more on that later). Soleil was warm and gracious and sweet. She did not shy away from her Punky Brewster past either, she embraced it and was happy to talk to so many people who were there lined up to meet her.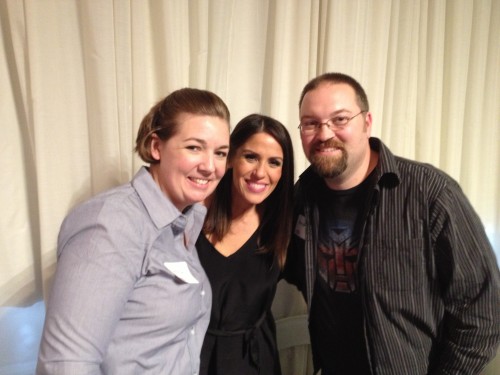 After our photo with Soleil I got to play Transformers Prime on the Wii U. I have played it on the Wii and the DS and I have to say that the Wii U blows it all away. All of it! The game play was incredible and levels that I had already played were enhanced with the ability to use the new Wii U game controller as a steering wheel so the driving portion of the game was so much better and the graphics blew em away. Then I got to see the ability to pull the game down onto the Wii U game controller. and play directly on that device. What a cool feature. While I was playing the guy who was demoing the product said to me that I was better at the game than half the people in his office.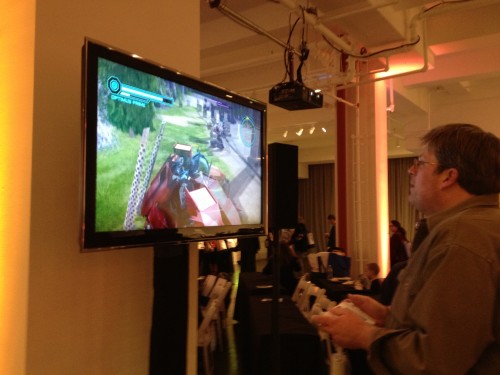 I then played Skylanders Giants on the Wii U. I noticed a few differences and the graphics are certainly enhanced and you have the ability to pull the game down to the controller as well. Eva was finished with the babysitting portion of the day so she came over and she played Skylanders Giants for a while. She got to play her favorite character (Chill, which I haven't given her yet) and many more figures. She did great with the Wii U controller and I think that might be better for her than the Wii controller and nun-chuck, but we will see.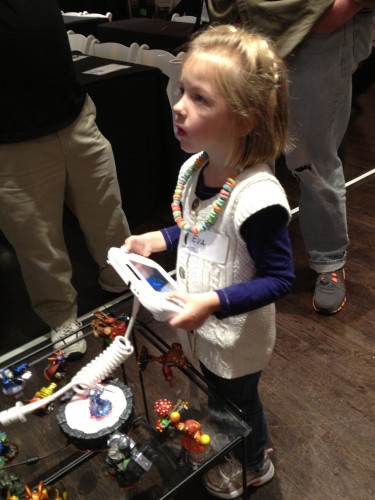 We left the event after we re-positioned everything in the Swag bags. Allison got one and I got one so we hauled home a ton of great stuff. In each bag was a full starter pack of Skylanders Giants and then we got copies of many of the Nintendo 3DS versions of the games. I think we got all of them, between the two of us. We also got some of the Xbox 360 games and a bunch of toys plus some Bratz dolls and more. Many of the items are being donated to Christmas is for Kids and I have this video thank you that Eva and I made. She doesn't know that we have a copy of all the games and are buying a Nintendo 3DS XL for the family for Christmas.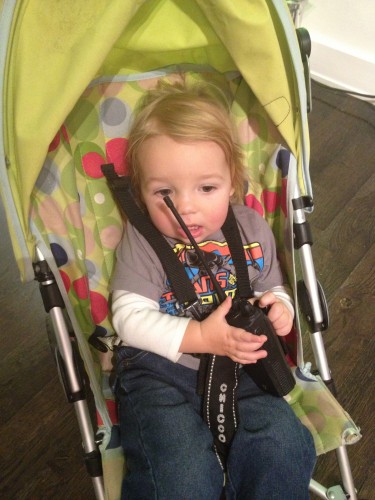 We left the event and got on the subway up to Penn Station. We were able to store our bags there for a few hours and go across the street to Brother Jimmy's for dinner. We had a nice meal and relaxed a bit before heading back to the station to go home.
We still had a few hours to kill and we were all very tired. We played games to keep the kids happy and keep us sane. I did have one moment where I snapped at Eva on the train as we were boarding and I felt horrible about it.
I didn't want us to end up on the quiet car because there was no way that Andrew was going to keep quiet and Eva doesn't regulate her voice very well when she is supposed to be quiet. So I thought we were on the quiet car, had my arms loaded down with suitcase, stroller, backpack and two other bags. She started to whine that it was the quiet car because I had told her that if there were white pillows on the seats that it was the quiet car, my mistake. She was whining and I said sharply to her that it wasn't the quiet car. It was too sharp and I felt terrible.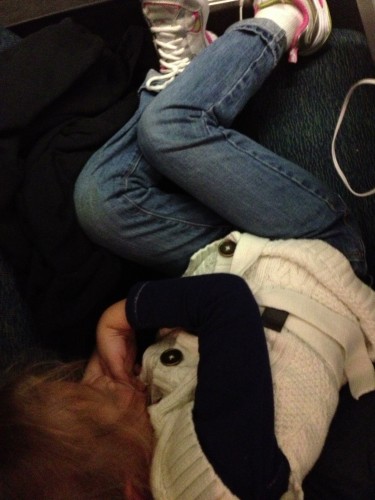 We took our seats and I apologized to her and we settled in together. She made me a little picture on the Roger Smith Hotel paper that said, "I love you Daddy". We watched Brave together. Eva fell fast asleep on me when it got to a scary part and I had her close her eyes till it was over. The best feeling is holding your sleeping child in your arms when they were looking for protection from something scary. It was a fantastic trip and I am so glad that we took it as a family.
Copyright (c) 2020 BenSpark Family Adventures