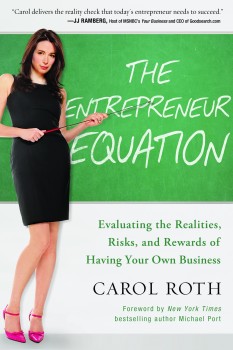 If you are like me you probably daydream about leaving your job and starting your own business. By having your own business you can Have the freedom to make your own hours and work when you want wherever you want. Sounds perfect doesn't it? Well you might want a little bit of reality before you go quoting Johnny Paycheck and shout, "Take this job and shove it!"
I was sent a copy of Carol Roth's new book The Entrepreneur Equation to read and review. Carol gives the reader a no holds barred look at what it takes to be a successful entrepreneur. I'm not going to lie, this book is work to read. There are exercises for you to complete to assess whether or not it is in your best interest to be an entrepreneur or to get a day job or not quit your day job. In fact quite a few times Carols states that your day job might be looking better and better.
I genuinely think that Carol wants entrepreneurs to succeed and while the book might make you a bit discouraged at taking the risk to be an entrepreneur a person who is simultaneously passionate and realistic will do the work laid out in the book and use it to become successful. This is not a get rich quick book. This is a book that will challenge you in ways that you may not have thought and because of that it is a good book to read.
Why should you even listen to Carol? Carol has an amazing background in not only helping entrepreneurs like you, but she's helped companies raise over $1 billion in capital. She knows her stuff, which is why MSNBC, FOX Business and many other business outlets consistently feature Carol's advice.
I believe this book should be required reading for both aspiring and existing business owners alike. I also want to make you aware of the creative pre-launch contest Carol's put together:
http://theentrepreneurequation.com/special-offers/
By clicking on the link above, you'll see some of the amazing bonus offers that Carol is giving away to readers who buy the book this week, including an exclusive 3-part Audio Series: Strategies for Getting Your Company, Your Product or Yourself on TV & Other Free Press! with Emmy award winners, TV anchors and PR veterans. And, you'll get the scoop on the generous prizes offered by entrepreneurs you respect and admire, including Alexis Neely, Liz Strauss, Michael Port and many more.
And, here's the best part. For every book purchased this week, Carol will be donating one book to SCORE.org, the national business non-profit, as a way to help as many entrepreneurs as possible to succeed.
So, I encourage you to grab one (or more) copies of Carol's book to support your entrepreneurial goals and success while furthering a great cause:
http://theentrepreneurequation.com/special-offers/
By the way, if you want to donate the books to SCORE, you can still keep the entries and other bonuses for yourself, so be sure to check out the list of bonuses by clicking on the link above.
Carol's contest expires on Friday, Feb 18 at 11:59 pm ET so go ahead and grab your bonuses today:
http://theentrepreneurequation.com/special-offers/
Disclosure: While I did receive the book for free I make nothing by promoting the book. I simply want to help my friend Carol have success and also share her knowledge with aspiring entrepreneurs.
Copyright (c) 2020 BenSpark Family Adventures