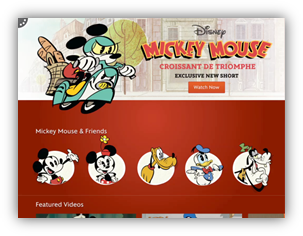 I received a fun media alert about Mickey Mouse (see below). As a kid I watched the Disney Channel for the classic Mickey Mouse Cartoons and now as an adult I watch Mickey Mouse Clubhouse with the kids. I certainly miss the classic cartoons though. Now I can find a bunch of them plus all new digital shorts starring Mickey and his friends. I watched Croissant de Triomphe and it was very funny and done in a cool style. I like that each of the shorts are set in different places and have lots of visual humor.
Mickey got his start in 1928 with the cartoon short "Steamboat Willie" – and now he's starring in an all new short-form series of 19 comedy cartoons, titled "Mickey Mouse" which are now live on both Disney.com's new Mickey & Friends website and Disney's new Mickey Video app, available for iOS devices on the App Store. The new site and app give fans direct access to the new shorts and additional Mickey Mouse extras on all of their favorite platforms and devices.
After premiering on Disney Channel, each "Mickey Mouse" short streams on the new Mickey & Friends website, which is the digital home of Mickey Mouse and a comprehensive gateway to all Mickey games, videos and content on Disney.com. Upon debut, the shorts will also be immediately available in the new Mickey Video app.
The first four episodes, including "Croissant de Triomphe" set in Paris and "No Service" set in Santa Monica are live now. And to watch upcoming episodes of "Mickey Mouse" shorts:
Copyright (c) 2020 BenSpark Family Adventures