Photo-A-Day #4698
Our family had the unique opportunity to be invited to the Disney Social Media Moms Celebration at Walt Disney World and on board the Disney Dream. This is a conference that we paid to attend. During the Celebration we received experiences and gifts that were beyond the scope of a typical Disney vacation. I will mention those as I discuss them to properly disclose any of those extras.
Our second full day at the conference was full of some great experiences. We started with a fun breakfast that featured many characters from Disney Junior. The breakfast was sponsored by Alamo. We were in the group that met the characters first and there were four stations around the room. The kids got to meet Jake from Jake and the Neverland Pirates, Princess Sophia from Sophia the First, Doc from doc McStuffins and then Mickey and Minnie from Mickey and the Roadster Racers. We got a fun family photo with Mickey and Minnie.
After breakfast Allison and the kids headed to EPCOTto meet up with one of Allison's friends from college. He works at the Wilderness Lodge. They spent the morning and afternoon with him while I was in conference sessions.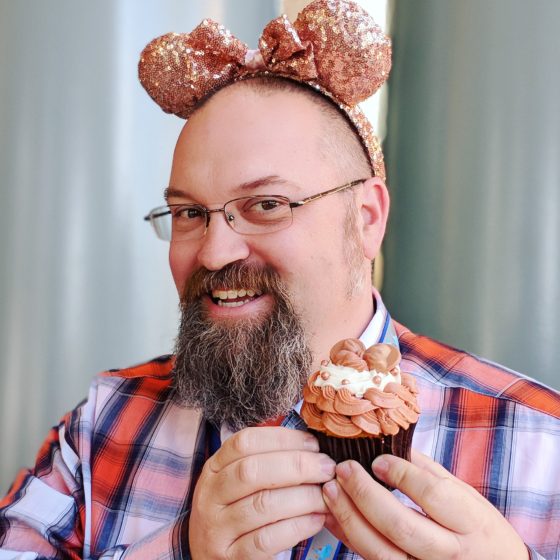 During the sessions we had a bunch of fun things happening. One thing was a delivery of special Rose Gold Cupcakes. We learned about everything from the new Star Wars Galaxy's Edge and themed hotel to Toy Story Land and how Disney's Corporate Citizenship division works on social outreach. We also saw some previews of upcoming Disney movies like A Wrinkle in Time and Christopher Robin, plus The Incredibles II. So many fun movies on the way. We got a mini concert from the band Temecula Road and learned about brand growth and brand voice plus search engine marketing.
After the first session of speakers there was a special showcase for the attendees. There we got to visit with all the sponsors and experience some fun things like a great display about Disney Studios movies. We were all given a packet with three Disney movies including Thor: Ragnarok, Lady and the Tramp and Coco. We also received a copy of the book A Wrinkle in Time: A Guide to the Universe. There were other things that we received while at the showcase but my favorite thing was part of giving back. I was able to paint part of a larger collage. I picked one piece that had Goofy on it because I was wearing clothes like Goofy, a bright green hat, orange shirt and blue jeans and brown shoes. Later, I had a photo with Mickey and Minnie in some new Pixar themed outfits.
After the showcase I ran back to the room and changed. I had to catch the bus over to EPCOT. Waiting for the bus took much longer than I expected but eventually I got there and was able to catch up with Allison and the kids. We had Fast Passes for Soarin'. Then we were able to catch a while bunch of rides all around EPCOT including my favorite one, Journey Into Imagination with Figment. We also went on a ride in The Living season, The Land and then capped things off with Test Track. We were lucky to have very special Fast Passes that allowed us to get on any ride almost immediately. this made the wait for Test Track almost nothing. Andrew and Eva loved Test track and I liked how they added a new feature where you create a vehicle and then while you ride the car it tests for the features that you created.
On our way out of EPCOT we stopped in the gift shop to pick up postcards. While I was there I saw that they had a special 35th anniversary Funko Pop figure of Figment. I hadn't wanted to stop because we had reservations for Chef Mickey's for dinner and we needed to get on over to the Contemporary Resort. I'm glad that we did go in because Figment is one of my favorites and it was so cool to pick up that pop.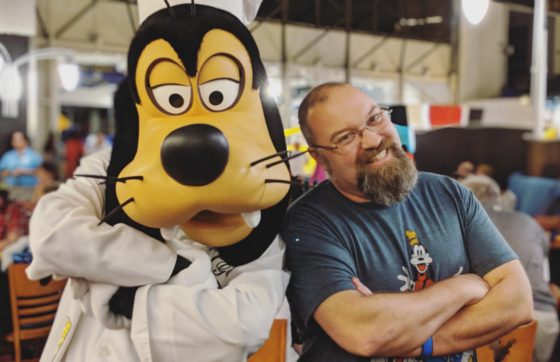 Chef Mickey's is fun. We got there and had to wait for a while. Andrew fell asleep on the way over and stayed asleep once we got there until we got to our table. It was a late meal. When we got there we saw that the price was $50 for adults and $30 for kids 3-9. When asked I said that we had two kids ages 6 and 9. Eva piped up immediately to tell that she was 10. There were a few of these type moments where Eva spoke up with her age. She even gave me a lecture that we taught her not to lie and now we were asking her to lie and that went against her values. Man, that was a sock right to the gut. We're raising a good kid. Her confronting me on the age issue had to be hard for her and that took courage.
So, it cost us a pretty penny to have dinner at Check Mickey's even though I used $60 in gift cards that were provided to us from the conference and $40 that I had from our Disney Visa rewards. But to see the kids have such a great time with all the characters was worth any price. There were such smiles.
This was a very late night which was made even later because I didn't go the right way on the monorails to get to the right set of buses. Everyone had a spectacular day and we all slept well.
I'm writing this post over a week later because, it was a working vacation. While I was there as a conference attendee and had to be at specific events and sessions it was also a vacation and spending time with the family was the most important thing. So, writing blog posts every day went right out the window. This happened the last time I was at a conference at Disney. But for that one, it took 3 years to finally post up the posts and videos. So, while most of this is fresh in my head I will try and recap this adventure.
Copyright (c) 2020 BenSpark Family Adventures