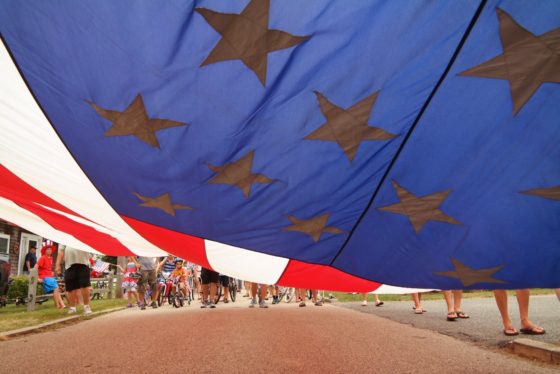 From Time to Time I receive books from Disney Publishing. I promise that I'll bring more books to the blog as suggestions. I receive these books for free and I get them to review and share with you. Opinions are our own.
We received a couple of books recently that are perfect to read heading up to the 4th of July holiday and the celebrations that we will be attending. Two years ago Eva sang God Bless America and did an amazing job. She may do it again this year at the annual neighborhood parade. I hope she does because it is the 100th anniversary of the song. You can see her sing it in the video below.
One of the books that I have to tell you about is God Bless America: The Story of an Immigrant Named Irving Berlin. This is the story of Irving Berlin's experiences that led him to writing this song which is celebrating its 100th anniversary. The second book is about Thomas Paine and Common Sense. I had to read Common Sense for Humanities when I was in college. I may have to re-read that one. We read both of these books and they were good. We then donated them to the kids' school for the library.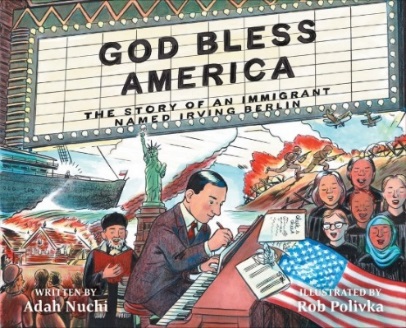 The inspiring creation of one of our nation's greatest patriotic tributes
God Bless America: The Story of an Immigrant Named Irving Berlin
by Adah Nuchi and illustrated by Rob Polivka
GOD BLESS AMERICA: The Story of an Immigrant Named Irving Berlin (Disney-Hyperion; On Sale: June 5, 2018) by Adah Nuchi and illustrated by Rob Polivka, is timed perfectly for the 100th anniversary of the song, "God Bless America!" This nonfiction picture book about the origins of the song focuses on Irving Berlin and the experience he had as a Jewish immigrant, which inspired him to compose this patriotic song. At a time when the topics of refugees and immigration are hotly debated, this picture book provides a humanizing view of one individual who contributed so much to our cultural heritage.
Persecuted as Jews, Izzy Baline and his family emigrated from Russia to New York, where he fell in love with his new country. He heard music everywhere and was full to bursting with his own. Izzy's thump-two-three, ting-a-ling, whee tunes soon brought him acclaim as the sought-after songwriter Irving Berlin. He ignited the imaginations of fellow countrymen and women with his Broadway and Hollywood numbers, crafting tunes that have become classics we still sing today. But when darker times came and the nation went to war, it was time for Irving to compose a new kind of song: A boom-rah-rah song. A big brass belter. A loud heart-melter. A song for America.
And so "God Bless America" was born, the heart swelling standard that Americans have returned to again and again after its 1918 composition. This is the tale of how a former refugee gave America one of its most celebrated patriotic songs. With stirring, rhythmic text by Adah Nuchi and delightful, energetic art by Rob Polivka, readers will be ready to hum along to this exuberant picture book.
Providing an excellent entry point into the songwriter's life, this engaging read-aloud encourages great discussion starters for lessons on music and social studies.
ADAH NUCHI is the daughter of immigrants. She has worked at the National Book Foundation, served as a children's book editor in New York, and currently works as a literary agent. This is her first picture book. Visit her on Twitter @AdahNuchi.
ROB POLIVKA is a children's illustrator and cartoonist living in Texas with his wife and three children. Find him online at www.robpolivka.com or on Twitter @robpolivka.
GOD BLESS AMERICA: The Story of an Immigrant Named Irving Berlin
by Adah Nuchi; illustrated by Rob Polivka
On Sale: June 5, 2018

Disney-Hyperion | $18.99 US | $19.99 CAN

Hardcover ISBN: 9781484781449 | Ages 4-8 | 40 pages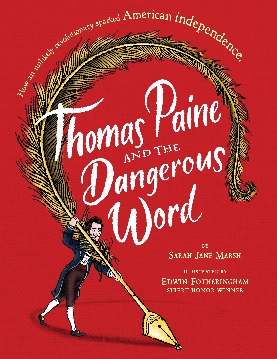 A picture book about the revolutionary that sparked American Independence, perfect for die-hard Hamilton fans!
Thomas Paine and the Dangerous Word
by Sarah Jane Marsh; illustrated by Edwin Fotheringham
With the use of Thomas Paine's own clever quotes throughout, THOMAS PAINE AND THE DANGEROUS WORD by Sarah Jane Marsh and illustrated by Sibert Honor winner Edwin Fotheringham (Disney-Hyperion; On Sale: May 29, 2018), is a robustly informative nonfiction picture book. An abundance of primary sources paired with Fotheringham's eye-catching artistic style, gives this book an engaging, contemporary feel that sets it apart from other historical biographies.
As an English corset-maker's son, Thomas Paine was expected to spend his life sewing women's underwear. But as a teenager, Thomas dared to change his destiny, enduring years of struggle until a meeting with Benjamin Franklin brought Thomas to America in 1774—and into the American Revolution. Within fourteen months, Thomas would unleash the persuasive power of the written word in Common Sense—a brash wake-up call that inspired resilience, rallying the American people to declare independence against the mightiest empire in the world.
This biography brings a historical figure from the founding of our country to life in a fun, modern way, in this fascinating and accessible book for children.
SARAH JANE MARSH has taught American Revolution history in elementary and middle school. Like Thomas Paine, Sarah attempted several adventurous careers (zoo-keeping, dolphin training, and firefighting) before settling into writing. She has an MBA from the University of Vermont and lives with her family outside of Seattle. This is her first book. Visit her online at www.sarahjanemarsh.com or on Twitter @MsSarahJMarsh.
EDWIN FOTHERINGHAM grew up in Sydney, Australia, and attended the University of Washington School of Art in Seattle, where he currently lives. He began his career as an illustrator working on a variety of projects, from CD covers to Neiman Marcus print ads. Other clients include The New Yorker and The Wall Street Journal. Edwin has also illustrated a number of children's books, including Tony Baloney by Pam Muñoz Ryan and What to Do About Alice? by Barbara Kerley, which received the Robert F. Sibert Honor. Visit him online at edfotheringham.com or on Twitter @efotheringham.
THOMAS PAINE AND THE DANGEROUS WORD
by Sarah Jane Marsh; illustrated by Edwin Fotheringham
On Sale: May 29, 2018
Disney-Hyperion | $17.99 US | $18.99 CAN
ISBN: 9781484781449 | Ages 7-11 | 80 pages
Copyright (c) 2020 BenSpark Family Adventures