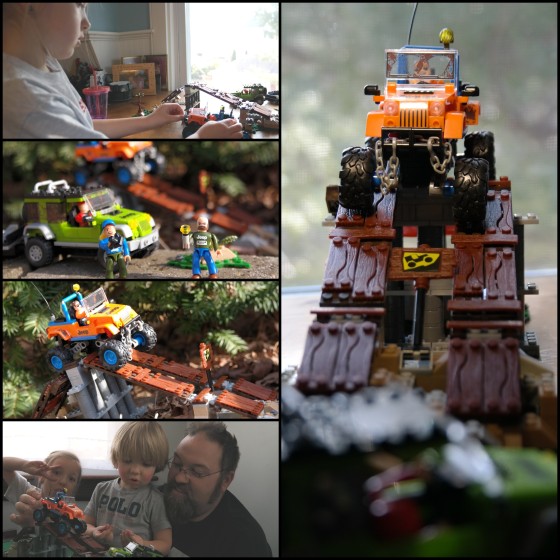 We were sent the new MEGA Bloks American Builders set Jeep Off-Road Adventure to try out and review. Our set said World Builders but that was because I got one with International Packaging. Here are our opinions of the set.
MEGA Bloks has a line of toys called American Builders. This toy line has had brands like CAT and John Deere. Most recently Jeep has been added to the line with a few different Jeep themed sets. The biggest set is the 770 piece Jeep Off-Road Adventure set that we got to enjoy as a family. This was a very impressive set with some fun play aspects to it and a nice challenging build that took us a few days to complete.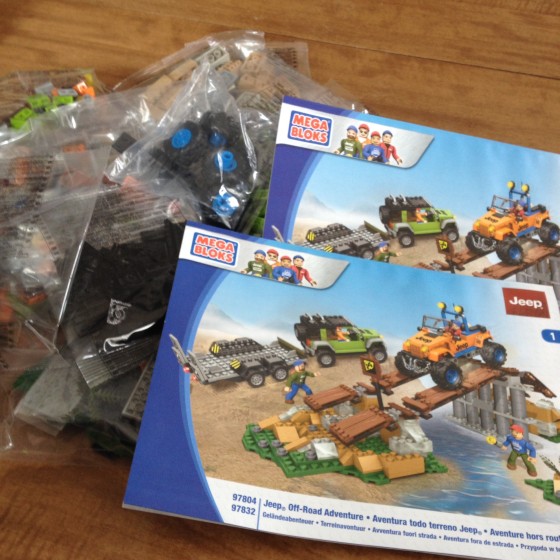 The set has 770 pieces and that makes two vehicles, includes four Jeep micro action figures, and an obstacle to drive over. The micro action figures came with backpacks, hats and even a camera. We tried to include my son a little bit with the initial build but he took off with a few of the hats and a backpack, they are still lost somewhere in the house. No playing for Andrew till building was complete.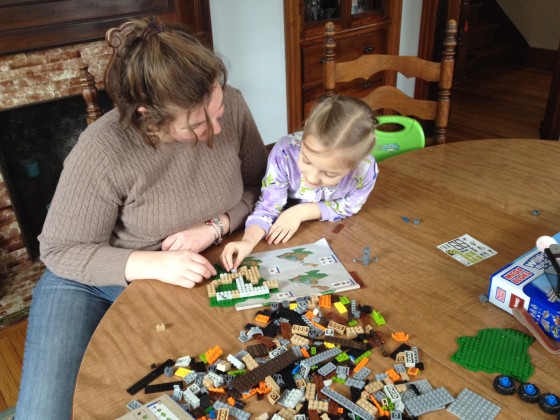 Allison and Eva tackled the giant obstacle for the Off-Road Jeep to drive over. They did that while I worked on the green Jeep. Building the Orange Off-Road Jeep would come later in the week.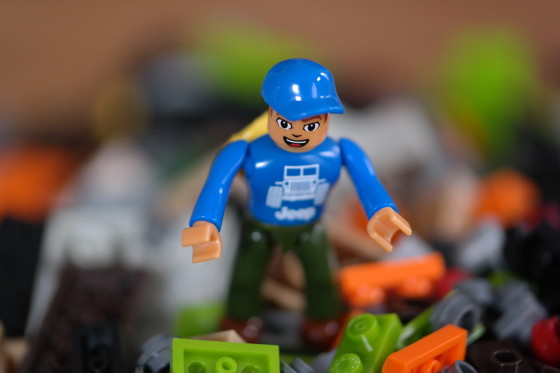 The mini action figures had nice detailing and each one had something different. Different equipment, expressions and clothing. Despite three of us working on the set it was going to take some additional time to complete the build so I packed up what we had done and brought it up to the office to be worked on later.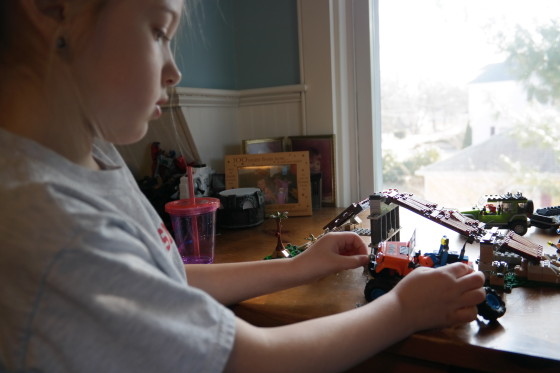 After I completed building the set Eva came up to the office to check out the set. She then crafted a little scenario that she played out. She was really fascinated by the hook and chain on the front of the Orange Off-Road Jeep.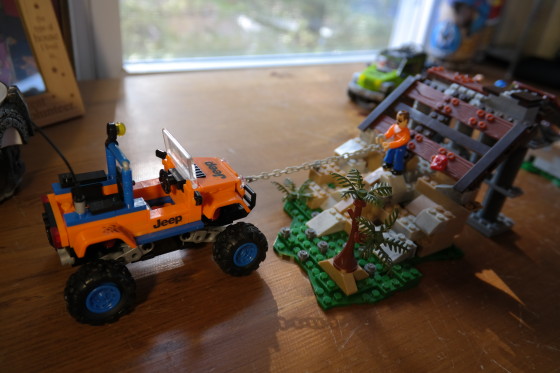 The Off-Road Jeep got stuck in the mud a few times, according to Eva. She had the driver use the hook and chain to try and get himself out of the mud. This became the activity that Eva wanted to do with the Orange Jeep. I was to position the other micro action figures around so that they could help and take photos.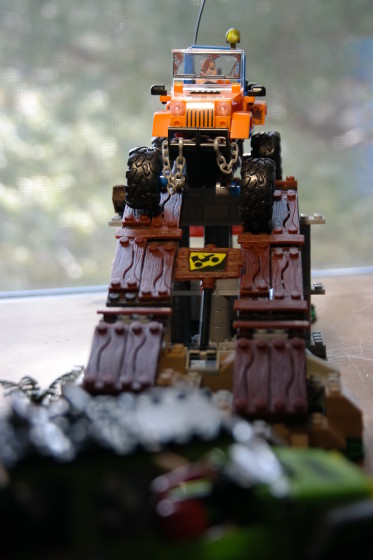 My favorite thing to do with the set was to make the Orange Off-Road Vehicle climb the hill and then zoom down. I like how the Orange Jeep has independent suspension. It rumbled and bounced down the hill like nobody's business.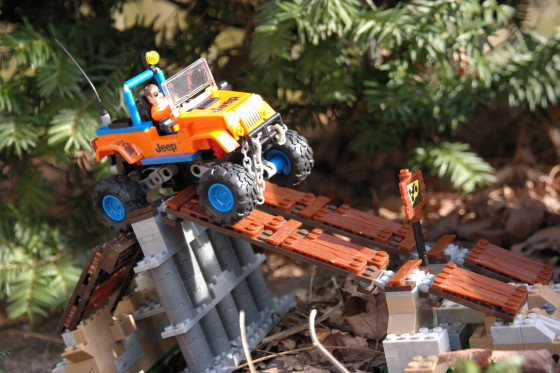 I did run into a slight problem. I stuck one piece on the rollbar too far in and it got stuck. I couldn't pull it apart and therefore could not put one of the lights on properly. I will have to get some pliers and try to get it apart because my hands could get no purchase on the pieces with enough leverage to separate the pieces.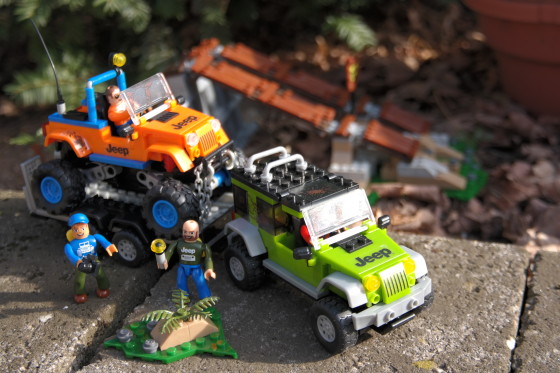 The entire set is a nice one. The Jeep vehicles look great and I liked that there were some temporary pieces that helped stabilize the frame until it was time to attach the wheels and suspension. The trailer and green Jeep were also solid items. The build of the trailer was clean and it has some good features to it as well like ramps that fold up and down and a place for the off-road Jeep to sit.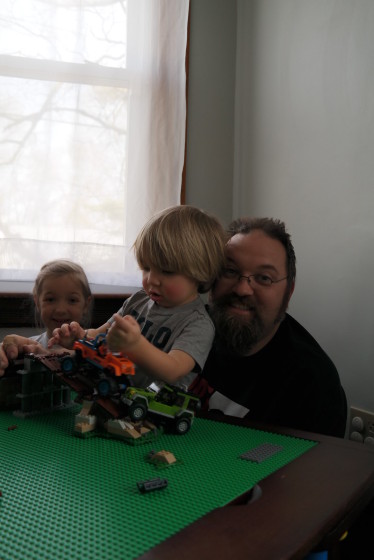 We had a nice time overall playing with this set. after shooting my outdoor shots I put the mountain obstacle on our building table and secured it so that I could play with Andrew and Eva. Andrew loved driving both Jeeps into each other (he's 2 1/2) It kept him occupied for a while as we raced up and over the mountain only to crash into each other over and over. It is a fun set and as Andrew gets older I think he'd really like to play with some of the other American Builders lines as well. But, even though he is little he still had some fun with this and it was nice to just be able to sit and play with him for a while.
Here is the official blurb on the set including some features that I may not have touched on.
JEEP OFF-ROAD ADVENTURE
SRP: $39.99 USD/ 44.99$ CAD ǀ Ages: 5+ ǀ Available: Spring 2014
Item #97832V
Your little Jeep fan can put his driver skills to the test on the most intense off-road track with the Jeep Off-Road Adventure by Mega Bloks American Builders! Four micro action figures hop in their green Expedition Jeep and tow their orange Off-Road Jeep in its large transport trailer to the mountain bridge test track. Lower the trailer ramp and unleash the Off-Road Jeep, a monster utility vehicle with working independent suspension, massive rubber tires, towing chain, and huge floodlights attached to an open roll cage. This exciting power beast is meant to chew up the road and spit dirt while it conquers the roughest terrains. Only the bravest and most skilled drivers can keep this outdoor roadster on the track and pull off spectacular driving stunts!
Ideal for Jeep fans ages 5 to 7.
Features:
Authentic buildable Expedition Jeep with sunroof and folding windshield
Authentic buildable Off-Road Jeep with working suspension, big rubber tires and towing chain
Buildable articulated bridge that can be raised or lowered
Four Jeep micro action figures, with a ton of outdoor accessories
Fun on its own or combined with other American Builders toys by Mega Bloks!
Copyright (c) 2020 BenSpark Family Adventures