Photo-A-Day #2568
This morning we prepared to leave the condo. We washed the sheets and got the recycling and trash all together to clean up. When we were close to ready we drove into Orlando to visit our friends at IZEA. When I first started blogging Allison told me all about IZEA. They were a company that paid bloggers to post and they were actually called PayPerPost at that time. I worked a lot with IZEA for a few years and was even an ambassador for their SocialSpark service. I became friends with company CEO, Ted Murphy and many people who worked at IZEA. So, when I knew we were going to be in Orlando I tweeted to them and we were invited to come for a visit and for breakfast.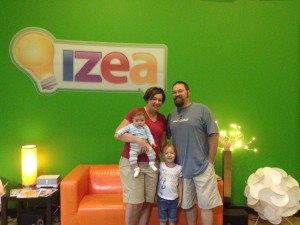 Sadly, Ted was not there, he had to run up to New York for the day and we totally missed him. But, Carrie was so gracious and welcoming to all of us. They were having a breakfast fundraiser because they have a team for The Relay for Life. I love how much they give back to the community. Visiting IZEA is always a fun time. No Cake Plow for me this time but I am up on the Wall of Cake Plows. I love that! Carrie took a couple of family photos of us in the reception area. I remember visiting IZEA in 2009 with Allison and Eva. Has it been 3 years already, that is crazy.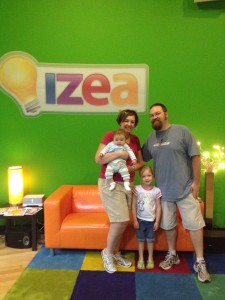 After our IZEA visit and a delicious breakfast, complete with bacon of course, we went back to the condo. We finished cleaning up and then got on the road. Had a quick lunch and filled up the Kia Sorento EX. I was pleasantly surprised to find that filling the Kia was just a little bit higher than filling up out Passat. Then, finally we got on the road.
I enjoy the Navigation system. You can have multiple users and save multiple destinations in the nav system. I created one for me on the first day and put in the address for the condo, for IZEA and for Mimi and Dano's. That way wherever we go while on vacation we can just call up the addresses we need quickly and easily. We choose Mimi and Grandpa Dano's as our destination and we were off. The Navigation system gave us lots of great information. It estimated how much time it would take for us to reach our destination and recalculated when we made a pit stop. The display was very easy to read and easy to set to my specifications.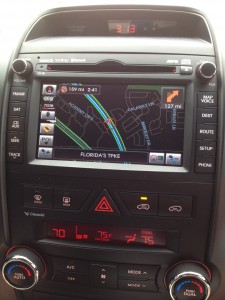 I spent a little time fiddling around with the things that the Kia Sorento could do. I paired up my cell phone, used the iPhone and iPod Touch to listen to music and podcasts. I checked the tripometer to see how we were doing on gas consumption. We did pretty well. Went 167+ miles from Orlando to Boynton Beach and still have more than half a tank for continued exploration in the car. We've got a bunch more things to do for the remaining wee we have for our vacation.
Also we discovered the cure for the crazy Florida bugs that accumulated on the windshield. It is a Florida torrential downpour.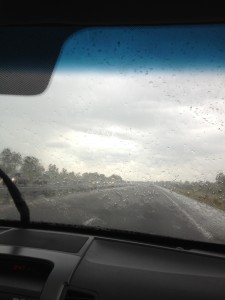 We gave Allison's parents a shout when we were one hour out. They ordered some dinner and we arrived just before dinner did. I do so enjoy driving the Kia Sorento EX. Now we figure out where else to go while on vacation. I already started looking around for a Hot Dog place to do a Hot Dog Story like my friend the Hot Dog Man. Gotta practice for National Hot Dog Month.
Disclosure: The Kia Sorento EX was provided to us. Opinions about the Vehicle are 100% our own.
Copyright (c) 2020 BenSpark Family Adventures