Photo-A-Day #2719
Today I took a trip to Winchester, MA to Bruegger's Bagels to meet up with my friend Nirasha of Mommy Niri. She hosted an event called Tots and Technology where we got to play with and take home a Fisher-Price Apptivity case either for an iPad or an iPhone.
I got up there early and had a breakfast sandwich. I also met Bruegger's social media person, Holly as well as the manager of that Bruegger's, David. We chatted for a bit before everyone else showed up for the event.
Niri arrived with her husband Ramesh of The Papa Post. They had boxes of Apptivity Cases for both the iPad and the iPhone. The team at Bruegger's also had a sampling of their bagels including a couple of flavors that will be out in a few weeks. One was pumpkin flavored and it was delicious.
A bunch of bloggers and their kids arrived. There were crayons and coloring pages and then people started putting their iPhones and iPads into the cases and letting the kids play with them. Fisher-Price has a bunch of fun apps for little ones. They are based on Fisher-Price's Laugh & Learn series and include the animals and voices and sounds from that line. I was unable to download any of the apps on the wi-fi at the location but did download them when I got home.
While I was there I showed a bunch of the apps that I have to Jessica from Don't Mind the Mess and Sharon from Umommy. We went through all of the apps that I have for Eva and a few that I use myself. We had a nice time and Jessica's daughter played with the iPad and the apps as we talked. We had a very nice time at the event playing with the iPad and talking about all sorts of fun apps for kids. I love kids apps and reviewing them. so much fun!
On the way home I stopped at Eastern Mountain sports and picked up a pair of Vibram 5 Fingers shoes. I've been meaning to get myself a pair of these for such a long time and decided finally to pull the trigger. They are strange shoes but at the same time I think they will help strengthen my toes and feet. They are often referred to as Toe Shoes because each toe fits into one toe slot. It helps separate the toes so that you get a more barefoot-like experience. Since I can't go barefoot for any length of time I'm excited about these shoes.
When I got home I put the shoes on and took Eva and Andrew over to the Capron Park Zoo. Eva loved daddy's "Funny Shoes. We did much of our usual at the zoo. Visit the White Alligator, the otters and then dance on the stage. There is "World Music" playing there now and Eva enjoys it very much. She had me tape her dancing. Andrew was tapping his feet when I shot this photo.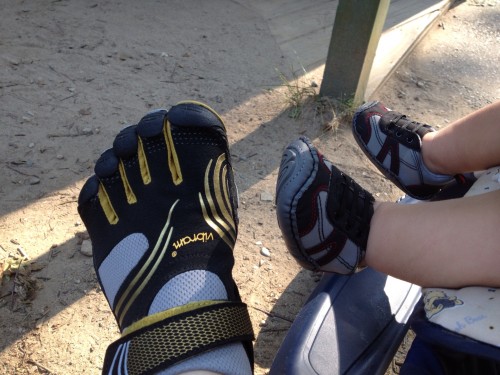 After the zoo we went to the playground where Eva took to the slides and climbed all over the jungle gym. I remember when I was right there behind her every single step that she took. Now she has such confidence, and of course no fear, while climbing on the jungle gym. I'm so proud of her. While we watched Eva on the jungle gym Andrew pulled this little stunt. And I swear he was buckled in.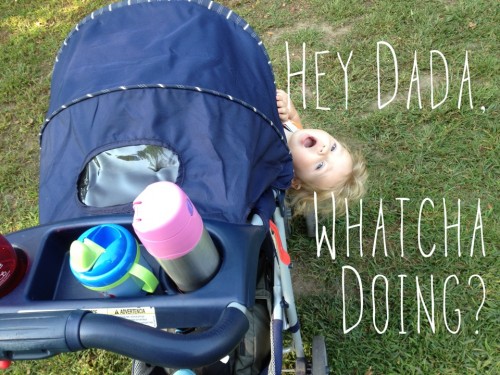 We came home from the Zoo and Eva and I recorded giggle into the Fisher-Price Giggles App. It is a cute little app for babies. Cute little characters appear on the screen when kids tap the screen and when they appear they giggle. Well, you can record your own voice for the giggles so Eva and I both recorded three each. It was fun seeing Andrew play with the app and hear our laughter at the same time. Eva was helpful to her brother and helping him play with the app.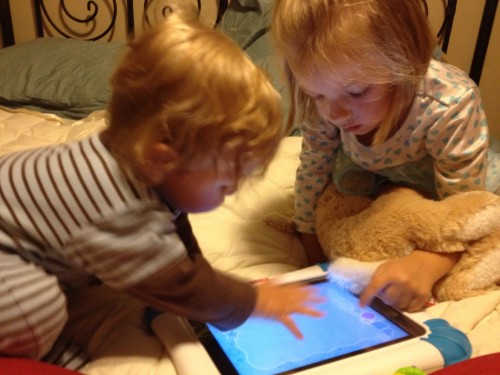 It was a nice night until it came time for bedtime. Both Eva and Andrew melted down. Andrew because he didn't eat enough milk and Eva because Allison had people over and she felt left out. Well, she felt "Left out" when I asked her if she felt left out. She's a bit open to suggestion. This was after we read a book on the iPhone (Disney's Dumbo, review coming) and then read Some Pig (A condensed Charlotte's web story) and then I told her a long story about Eva meeting the Autobots from Transformers Prime. She does this every time we have people over and she has to go to bed. I'm not sure how to deal with these outbursts. Something to work on, i guess.
Copyright (c) 2020 BenSpark Family Adventures