One very special part of our visit to the set of Marvel's Agents of S.H.I.E.L.D. was a tour of the costume department by Costume Designer, Ann Foley. I attended an expense paid trip by Disney to press events for Marvel's Agents of S.H.I.E.L.D. (#ABCTVEvent, #AgentsofSHIELD), all opinions as always are 100% my own.
Ann Foley does some excellent work outfitting the cast of the show in some great costumes. She designed costumes like May's silver dress, Mockingbird's uniform and Deathlok's new costume. I like that last one the best because it meant the return of J. August Richards to the show. I was always a fan of him on Angel and so glad to see him back on Agents of S.H.I.E.L.D. We didn't get to see that particular costume in person but the other two that I mentioned were on display on mannequins. I also liked this part of the visit because I got to record the whole interview on my recorder and so I had to stick close to Ann as she showed us around.
Right off the bat Ann welcomed us into the costume department and she was so sweet. I had been following her on twitter for a couple of days because J. August Richards had tweeted about the newly redesigned costume. I now follow her on Instagram and she posts some great content with people from the show. Some great behind the scenes insight for eager fans like me. Ann showed us through all the racks and racks of costumes for the cast. Tons of suits for Coulson and much more. I wish that we could have taken some photos in this part of the tour. I do have some good questions and answers that we received on the tour. to share with you below.
On the walls in the costume department are boards with different characters names or likenesses on them. Then there are articles of clothing and more around the characters. A vision board to use for inspiration when creating costumes for the characters. We were walking through the department as Ann was answering our questions.
How awesome is it to have a job where you do a vision board as part of your job?
ANN FOLEY: It was really fun, and a lot of this stuff was inspiration for season one. I have a few things up there for season two, and as most of you guys know, there was a big progression in the cast from season one. Towards the end and the fall of S.H.I.E.L.D. we went a little darker and everybody grew up. So season two, it was a little darker. It was a little edgier, and it was kind of a nice change.
Over here, along this wall, what we have are everybody's permanent closets. So a lot of this is the stuff, the clothes from last season, and some things from the current season that have already been shot. Here's Mockingbird, her coats from the first time we met her. Hunter is in here as well, and his fabulous leather jackets that he's been wearing. Then on the other side I have all the stock that we use to dress the background. It's just like a permanent working stock, budget suits for my S.H.I.E.L.D. agents.
We continued on to the back of the department where there were the mannequins with different costumes.
ANN FOLEY : Come on back and I'll show you, I've got some costumes up on mannequins, if you guys want to see them. This is my workroom back here, and this is where we do build a lot of the costumes for the show. I have a few of the costumes up on mannequins that we've made here in-house, one being Raina, the girl in the flower dress. She's probably one of my favorite characters. We actually print that fabric and then we make each one of our dresses. What we did with her is I really worked with the writers and we sort of went into her head, and depending on where her head was in that episode, we tried to choose that color wisely. They're all 100 percent custom made and that's special to our show.
Then that's Ming's silver sequin dress, which I think you guys remember from earlier in the season. That we made that in-house, too, which was so much fun. It was so much fun putting her in that. And we, um, we had about a week to make five of those dresses. Those tiny sequins that you see on there, we were finding those sequins all over studio. They were everywhere.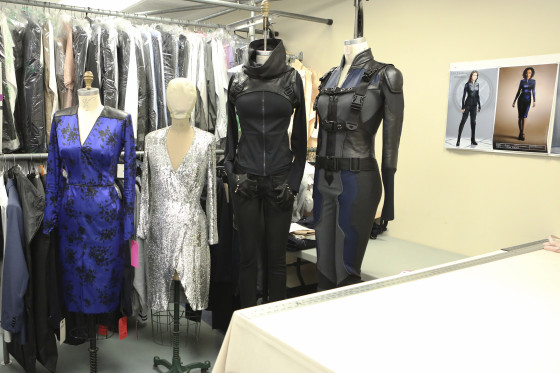 Why did you have to make five of them?
ANN FOLEY: We made five because Ming was fighting herself, or May was fighting herself in the episode. So, we had one beautiful one for May, then we had one that she could fight in. We sewed stretch panels inside so she could fight and do all of her movement. She had two stunt doubles and then Agent 33 was in one as well. So that was a lot. Then we have Skye's new tactical outfit for this season, and the hood piece up there is her custom made.
Then of course Mockingbird, which I think you guys have all seen her. That's another one of my favorites this season as well. Here's some illustrations that we have. My fabulous illustrator, Phillip Boutte, who I've been working with on both seasons. Here's the latest and the greatest, which is our friend Deathlok, who you guys saw on Tuesday night. I wish I could have put him up, but he is not available to be put up yet.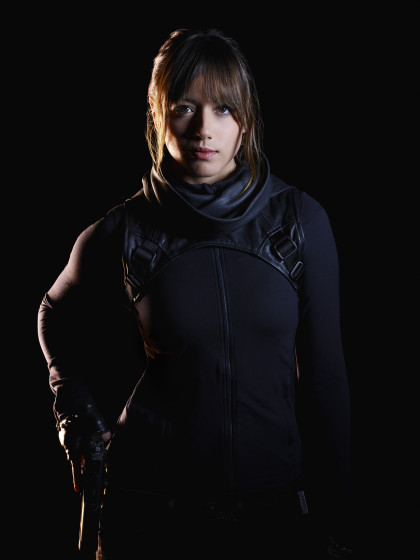 It was a really nice interview with Ann. Once we were finished in the Costume department it was time for us to go to a live set and observe the filming of a scene. We were able to chat very briefly with Chloe Bennet (Skye) and Luke Mitchell (Lincoln) while they were between takes.
Chloe told us a quick story about a scene where they were filming Skye testing her powers on a mountain. She said that during one take she lifted her hand and the wind picked up and made it even more dramatic as she used her powers. Then we went back outside of the set and watched the filming of the scene through monitors and remote headsets.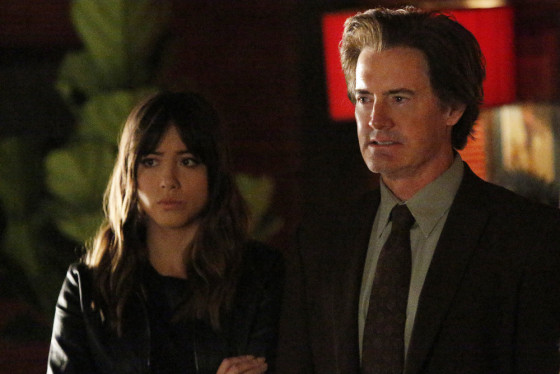 There is a lot of technical work that goes into shooting a scene. We watched one two monitors as there were two cameramen filming. The crew worked up the shot before Chloe and Luke came in to film. Chloe had to do a stunt in the scene and it was interesting watching her get ready to film the scene a few times. She would do high knee jumps to get herself out of breath before the stunt. I really wished that I hadn't had the headphones on because I heard a major spoiler that I cannot share with you. Will it happen in tonight's episode? I don't know. I think they were actually filming the season finale while we were there. It is going to be incredible, so don't miss any part of the rest of the season.
We were also allowed to tour a huge part of the set. We saw the whole SSR Base, got to sit in a Quinjet, saw the dungeon and the lab. While we were touring we got to have these super fun photos taken of us below. They were all shot by the photographer who was with us, Adam Taylor. We were not allowed to teak any photos, tweet or anything while we were on set. It was a total blackout. And for 25 bloggers who thrive on these things it was tough. I left my phone on the bus because I knew I'd have a reflex to take it out and tweet or Instagram or any number of things. I'm glad that I did get these photos below sent to me after the event.
And that brings us to tonight. Watch the new episode this evening. It is all leading up to the 2-hour finale next week.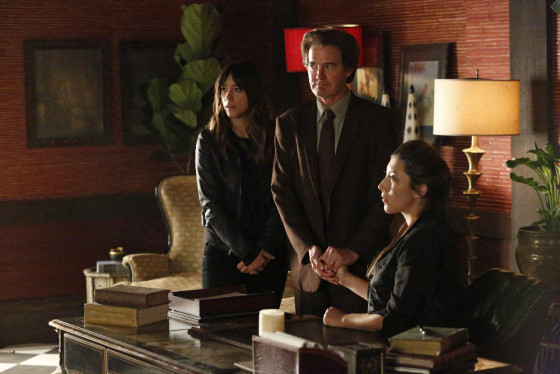 WAR TEARS SKYE APART, ON "MARVEL'S AGENTS OF S.H.I.E.L.D." ON ABC
Edward James Olmos Guest Stars as Robert Gonzales
"Scars" – Skye is torn between her loyalty to S.H.I.E.L.D. and her connection to the Inhumans as tensions rise between the groups — and Coulson reveals a secret he's been hiding from even those closest to him, on "Marvel's Agents of S.H.I.E.L.D.," TUESDAY, MAY 5 (9:00-10:01 p.m., ET) on the ABC Television Network.
"Marvel's Agents of S.H.I.E.L.D." stars Clark Gregg as Director Phil Coulson, Ming-Na Wen as Agent Melinda May, Brett Dalton as Grant Ward, Chloe Bennet as Agent Skye, Iain De Caestecker as Agent Leo Fitz, Elizabeth Henstridge as Agent Jemma Simmons, Nick Blood as Lance Hunter and Adrianne Palicki as Bobbi Morse.
Guest starring are Henry Simmons as Alphonso "Mack" Mackenzie, Ruth Negga as Raina, Patton Oswalt as Sam/Billy Koenig, Kyle Maclachlan as Cal, Edward James Olmos as Robert Gonzales, Jamie Harris as Gordon, Christine Adams as Agent Weaver, Mark Allan Stewart as Agent Oliver, Maya Stojan as Kara/Agent 33, Dichen Lachman as Jiaying, Luke Mitchell as Lincoln Campbell, Alicia Vela-Bailey as Alisha, David Douglas as Michael and Crystal Coney as scientist.
"Scars" was written by Rafe Judkins & Lauren LeFranc and directed by Bobby Roth.
For more information on "Marvel's Agents of S.H.I.E.L.D.," visit ABC.com
Follow us on: Facebook www.facebook.com/AgentsofSHIELD
Twitter @AgentsofSHIELD
Copyright (c) 2020 BenSpark Family Adventures