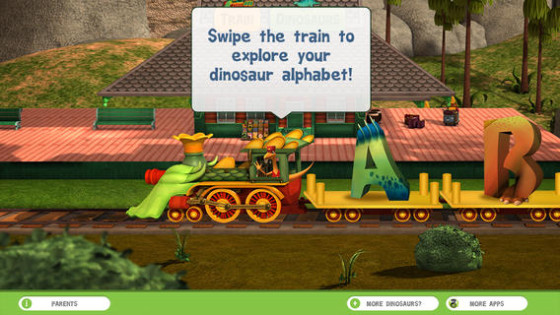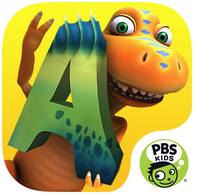 Dinosaur Train is a fun and informative show. There have been a few apps put out around Dinosaur Train but none of them really gave much information about actual dinosaurs. Until now.
We received a code for the Dinosaur Train A-Z app which introduces kids to 26 dinosaurs. Kids can explore information about each dinosaur, feed them their favorite foods and even see what their skeletons would look like. Kids can also favorite dinosaurs for easy retrieval later. There are a couple of ways to use this app.
Probably the way that many younger kids will use the app is to pick a letter off of the Dinosaur Train and learn about the dinosaur that corresponds to that letter. This is probably the simplest way to use the app and it is a very good way to do it.
If your child is a little more sophisticated and wants to pick specific dinosaurs they can use the dinosaurs tab and go right to their favorites or explore all of the dinosaurs in the app. They can select quadruped, bipedal or marine dinosaurs (there are no marine ones in the app to start but you can purchase special packs for $.99 each). You can also look for dinosaurs based on their eating habits so Herbivores, Omnivores and Carnivores. And lastly you can search for a dinosaur based on their specific time period like the Jurassic, Triassic and Cretaceous. You can also use a combination of the three sorting options and find yourself a bipedal, herbivore from the cretaceous period.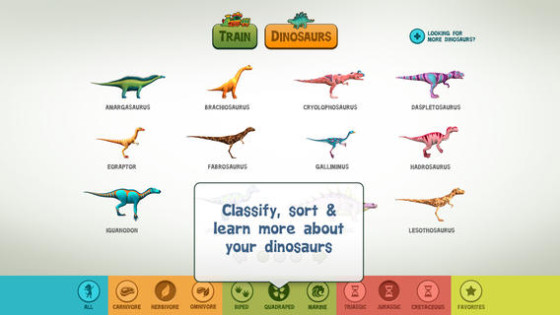 At the heart of the app is the information. Each dinosaur gets a colorful display page with some simple but informative information on that dinosaur. There are more options in the app coming soon but for the initial offering of the app it is impressive.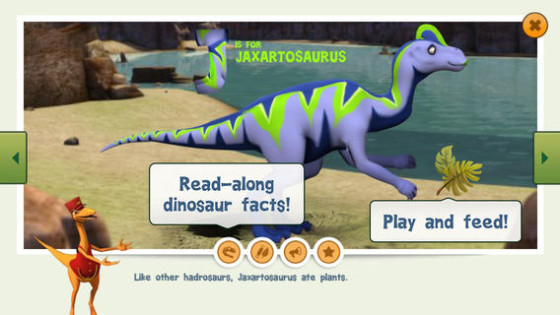 The true test of any app is whether or not the kids enjoy it. Andrew enjoyed checking out every dinosaur and their sounds. Eva liked learning about the dinosaurs and will continue to play the game.
The app is also English and Spanish and has a nice parents information section.
Copyright (c) 2020 BenSpark Family Adventures