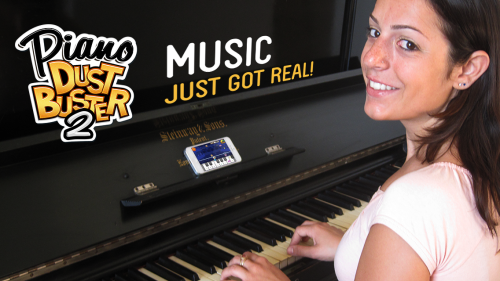 I received an iPad 2 with some pre-loaded apps to try out and review. One of the apps was Piano Dust Buster 2. Opinions of it are 100% my own.
We've had a piano in our house growing up and while my sister played I did not. I banged on the keys and could play chopsticks, poorly. Eva has shown an interest in the piano when we visit my mom and Andrew likes to bang on the keys. I got the chance to try out the new Piano Dust Buster 2 game from JoyTunes. It is a cute way to get kids familiar with playing the piano on the iPad, but also on a real piano. I didn't even realize that this app could be used on and actual piano or keyboard until I read the Press release below and saw the image above. I just thought it was a cute app that kids can use to play music.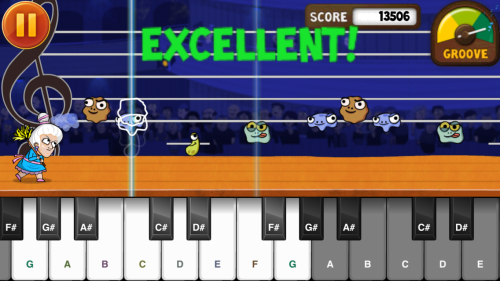 The app is much more than a game. It actually helps people learn how to play the piano by gamification of piano practice. I found the game to be a fun one. It sort of reminded me of games like Rock Band and guitar hero because it made me excited about playing music. Now, granted I was only playing the first couple levels which include songs like Mary had a Little Lamb but there is the option to buy song packs to play even more songs including some currently popular ones. You can even compete with people online by performing a series of songs.
I wanted to see how the app worked with a real piano. I brought the iPad 2 over to my parent's house and placed it on the piano. When you start the app you can choose to play on the iPad or use a real piano. I chose a real piano and then tried to figure out which key to hit. My parent's piano is so out of tune that even though I was hitting the right key it was not being recognized. I was able to play using the real piano by using the wrong keys that must have been making the correct tunes. It was fun to play on the real piano and have the game perform while I was playing. I probably won't become a concert pianist any time soon but I could probably play the heck out of Mary had a Little Lamb if I practiced hard enough.
Here are more details about the app.
JoyTunes Releases Piano Dust Buster 2 for iOS Devices
Sequel introduces competition, weekly challenges to winning music education game
NEW YORK, NY – September 23, 2013 – JoyTunes, the award-winning music education game developer, today released Piano Dust Buster 2 in the iOS app store. The free download builds on the core music learning experience of the original Piano Dust Buster, adding new modes and gamification elements. Through its latest release, JoyTunes aims to make piano practice engaging and fun for players of all ages and skill levels.
Key features, based on input from loyal Piano Dust Buster players, include:
Concert mode – bi-weekly challenges for players to perform a specific series of songs
Online leaderboards – global rankings and social high scores for each song and show players how their performance rates among the rest of the world, or their friends
Jukebox mode – a continuous series of songs to keep players on their toes and help them improve their piano skills
JoyTunes' MusicSense Engine – technology that allows the game to "listen to" notes played on a full sized piano or keyboard and interact, with no wires or connections
The Original Piano Dust Buster has been downloaded over 1.5 million times by players from around the world. Like all JoyTunes titles, the catalog of available songs to play in Piano Dust Buster 2 ranges from classical masterpieces to contemporary, pop hits. Songs include:
Beauty and a Beat – Justin Bieber
Canon in D – Pachelbel
Clocks – Coldplay
Imagine – John Lennon
Kiss You – One Direction
Moonlight Sonata – Beethoven
Rolling in the Deep – Adele
"With all the young players entering the App Store marketplace in the coming months with new devices, it was a great time for us to revisit Piano Dust Buster," said Yuval Kaminka, founder and CEO of JoyTunes. "We started with a really great music learning experience and added in features popular with gamers, like achievements and content that unlocks as the players progress. The satisfaction of competition makes practice more enjoyable and helps improve our players music skills.""
Please see Piano Dust Buster 2's video trailer here.
About JoyTunes
Founded in 2010, JoyTunes has developed award-winning interactive video games that help children and adults alike discover and enhance their love of music. An elite team of technologists, musicians and music educators created the unique patent-pending technology that lets music lovers worldwide create and enjoy playing real music with a real instrument. JoyTunes has won multiple awards for their unique approach, most recently winning the fourth EMI Innovation Challenge and the World Summit Award by the United Nations. Based in Israel, the company is privately funded by Genesis Partners, Dana Messina (board member and former CEO of Steinway), Founder Collective, Joe Lonsdale (founder of Palantir), and individual angel investors. Advisors include leading music professors and Mr. Eran Egozy, Co-Founder of Harmonix (creators of Rock-Band, Dance Central). For more info, please visit the company website, www.joytunes.com.
Copyright (c) 2020 BenSpark Family Adventures