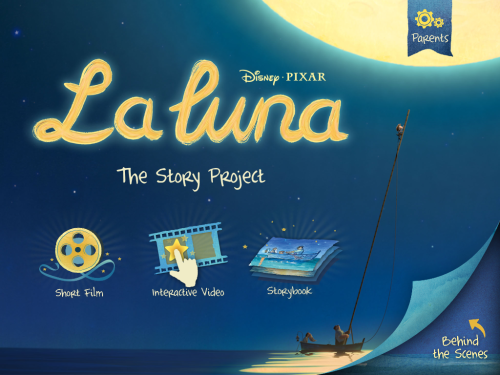 I was provided a download code to check out LA Luna: the Story Project app. Opinions of the app are 100% my own.
La Luna was one of the most beautiful short films from Pixar that I've ever seen. It is the story of three generations doing a job. The grandfather, father and son. It is the first time that the young son had ever gone to work in the family business. You see him in his wonderment as only a young boy has. He tried to find his place and his own identity while both his father and grandfather offer him their guidance and attempt to get him to work as they do. Eventually the young boy find his own way of doing the job. He even manages to bring his two elders closer together.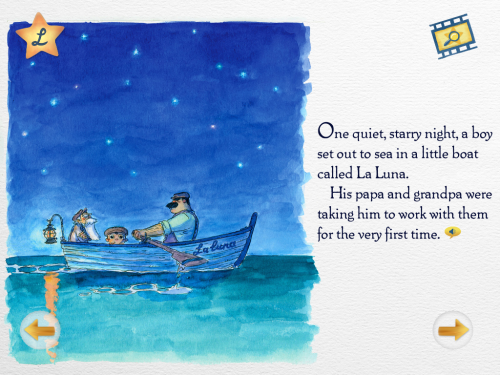 The Story Project app shows the reader multiple ways of looking at the movie. There is the short film itself. Then there is an interactive video, a storybook and a behind the scenes section. I love finding out more about the things I watch and this was a perfect app for me to learn more about La Luna. It also provided me with another way to share the story with the kids. I could read the beautiful book, show them the movie or we could listen to the book together. Then we can explore what it took to make the sounds, the characters and overall design of the movie. I especially liked watching the progression reel with the storyboard and finished film side by side. It would have been better if you had the option of making it full screen with one half the storyboard and the other the finished film.
I was not able to check out the interactive video so I cannot speak to what that does. I have a first generation iPad and it kept crashing on me. Many apps crash on me now. I think it is time to get a new one.
Here is the official word on the app. If you liked the short , this is worth picking up.
Based on Disney-Pixar's Academy Award-nominated short film "La Luna," La Luna: The Story Project gives an exclusive behind-the-scenes look into how the story was created. Learn how watercolors were used to enhance the film and explore the development process – from storyboard to final animation. You can even watch the short film in its entirety as it was originally released theatrically.
Additional features include:
• Interactive video, storyboards, and turntables
• Digital picture book with original artwork from the director
• Side-by-side interactive play-through
• Visual artwork used to create the 3D world within the story—the boat, the stars, and more
La Luna: The Story Project is now available for $3.99 on Apple's App Store.
Copyright (c) 2020 BenSpark Family Adventures