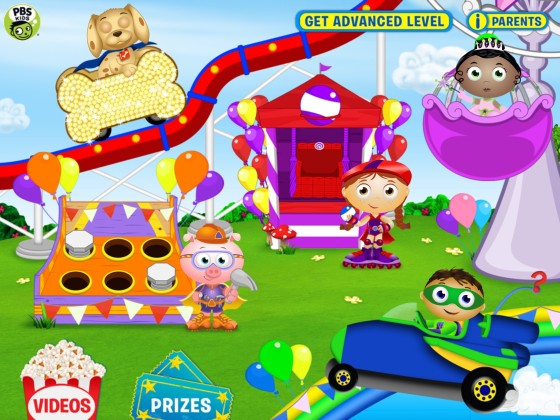 We were provided with a download code for the Super Why Phonics Fair app so that we could try it out and review it. Opinions of that app are 100% our own.
We are readers in our house. Both my wife and I have an extensive collection of books and so do our kids. My daughter is reading small chapter books at six years old and my son is starting to identify his letters and become more verbal. We work had at helping them become readers. Part of our plan for raising readers is helpful reading based apps. We have been impressed with the Super Why apps in the past and this new app is a welcome addition to the group of fun learning apps that we have for the kids. Here is the official description of the app.
SUPER WHY Phonics Fair includes 5 interactive literacy games designed for phonics practice, and each game features 30 key word families that are needed to learn to read (such as the –ALL word family, with words like "ball," "tall," "wall"). There are also over 130 stickers that kids can earn and decorate within the Phonics Fair Prize Booth, and 8 phonics-themed music videos.
Parent tools include a Progress Tracker and device notifications that allow parents to follow their child's progress with each word family. In addition, instead of downloading a new app when their young Super Readers are ready to progress to more complex word families, parents will have the ability to purchase an advanced level of SUPER WHY Phonics Fair for $0.99 that includes an additional 30 word families, such as "OOM" and "EEP" words, as well as additional features.
SUPER WHY Phonics Fair is available for $2.99 from the App Store on iPhone and iPad.
We found the app to be fun and easy to use. Our favorite mini game was the Bumper Words one because even Andrew could get behind playing that one. He was able to figure out a few words, some without my prompting. Eva had no issues playing any of the games. she was able to get everything that came her way. It is also nice that you can choose between Upper and Lower case words. For Pre-Schoolers and kids in Kindergarten they are learning to differentiate between upper and lower case words so having the option is certainly useful. Andrew was also a big fan of the videos section and watched those over and over. It is still a little early to tell how much these apps are making a difference with the kids but I am seeing engagement and improvement and that is a good thing.
Copyright (c) 2020 BenSpark Family Adventures