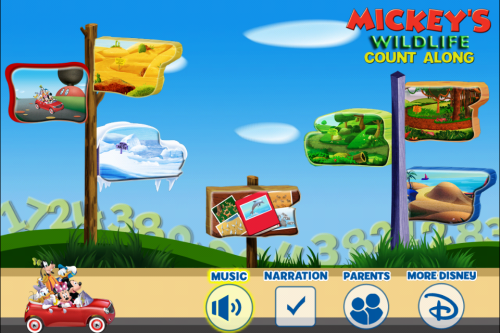 When I was a kid we would play car games. License plate bingo, try and make a big rig honk by pumping your arm up and down, punchbuggy and a parental favorite, the quiet game. My kids have many more options for their road trip entertainment and rather than have them just play games I like them to learn a little something. That is why I love apps on the iPad and iPhone. There are so many apps that are all about learning but disguised as games.
Disney Learning recently released their first math and science app. Kids can drive along with Mickey and his clubhouse friends around the world to many different habitats to find, count and photograph animals. In each habitat Mickey will ask kids to find a certain number of animals and if they pick the right group they can then photograph the animals. You travel through many environments because Mickey and friends are headed to the beach so Mickey can photograph some bottlenose dolphins but he keeps making wrong turns.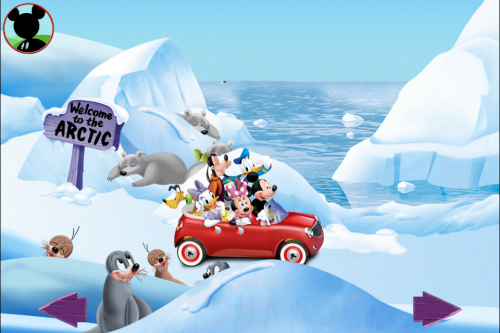 Once you have made your way through five different environments you help Mickey with his photo albums. Mickey will ask you to place photographs into specific spaces based upon the number of animals in the photos. But it is not just about the number of animals because Mickey will also show you a photograph with animals from all different habitats and will ask which ones should not be in the photograph. So even though the main focus of the game it learning math skills it also gets kids to think beyond and remember what they observed while counting.
Here are some of the features of the game:
Activities aimed at counting and sequencing numbers 1-10
Hands-on practice with key early math concepts
Matching games featuring over 20 different animals to one of five fascinating habitats
Character voices from Disney Junior's Mickey Mouse Clubhouse
Original artwork and animation—as well as fun effects such as Tap, Shake, and Tilt
Story extension activities for parents and caregivers
Mickey Mouse Clubhouse: Mickey's Wildlife Count Along is available for $1.99 in the Education category of Apple's App Store for the iPad, iPhone, and iPod touch.
Disclosure: We were given the download code to try out Mickey Mouse Clubhouse: Mickey's Wildlife Count Along! Opinions of the app are 100% my own.
Copyright (c) 2020 BenSpark Family Adventures