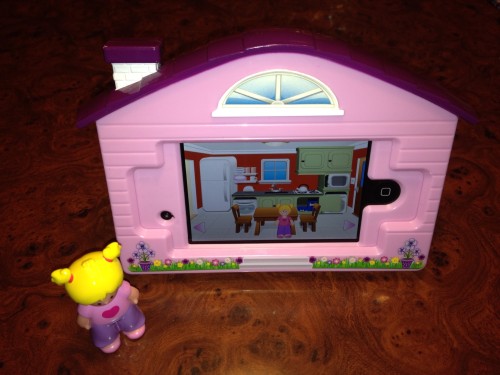 When I was at Toy Fair I visited the Appventures booth. If you have kids and are watching any sort of kids cartoons you may have seen commercials for the Appventures virtual dollhouse and virtual firehouse. Eva has seen them and she was very excited when a big box of these iPad play cases arrived at our house. Then she was disappointed because we only have the first generation iPads so the cases will not work with our devices. I explained this to my contact and she sent me an iPhone 4S size virtual dollhouse case that we could use. Eva was very happy about that. When asked what to do about the iPad cases I was given the go ahead to do a giveaway with them. So look for that at the bottom of this post.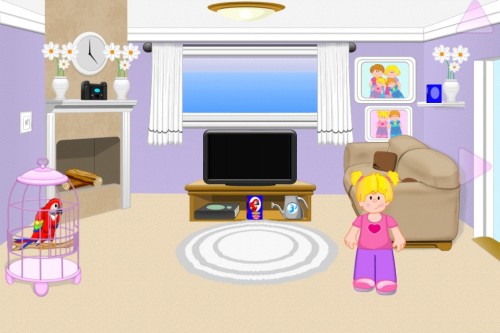 So, once we got the iPhone 4S case we put my iPhone into the case and I let Eva take the app out for a try. She really enjoyed it and often asks to play the app When we are on car trips. We also discovered that the app works on our iPad but the iPad itself does not fit into the iPad case because it is the wrong version.
In the app Eva can play with a family of four dolls: Mother, Father Daughter and Son. She can move them from room to room and interact with items in each room. She can decorate and redecorate each room and even include photos from our phone's camera roll to use in the decorations. I'm more of a fan of this virtual dollhouse than the one that sits in our living room. This one gets a lot more use and I don't have to pick up tiny furniture every night.
With each case comes a physical doll figure with a QR code on its back. You can scan the code in with the camera on the device which will in turn activate the character in the virtual dollhouse or firehouse apps. The dollhouse case comes with the daughter doll and the firehouse case comes with a little boy doll.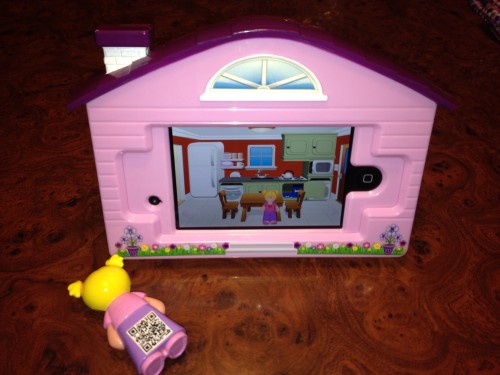 The cases are nice and solid with an easy open back so that you can slip your device into the case with no hassle. Then your child can take their dollhouse or firehouse with them for continued play and the device stays safely within the case.
Would you like to win one of these Appventures cases for iPad 2 or higher?
Disclosure: I received this Appventures virtual dollhouse case to test out and review. I purchased the app myself. Opinions are 100% my own.
Copyright (c) 2020 BenSpark Family Adventures