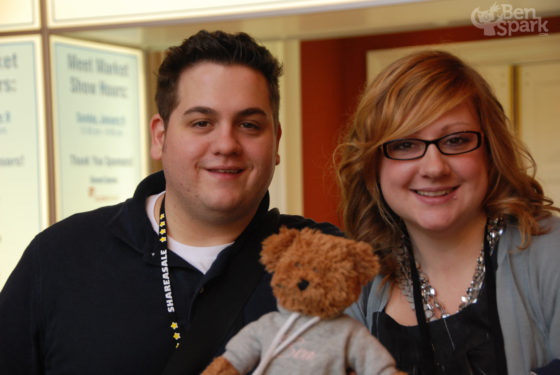 Photo-A-Day #2102
Today was the first day of Affiliate Summit West 2011. Daniel and I were part of a panel called Affiliate Improv. We were joined by Mike Buechele, Wade Tonkin and Jen Goode. I think that we made for a very diverse and knowledgeable panel. It was going to be a good day.
First thing in the morning I was up and ready to go. Daniel is a heavy sleeper, that guy can sleep through anything. I was really quiet but man can he sleep soundly. I wish I could. Any sort of light or sound ways me up. I think I should read up on getting a good night's sleep so that I can feel better all the time. When Daniel got up we went and got some breakfast and then took a cab over to the Wynn.
We got there plenty early and started stratigizing about the session and also putting numbers on poker chips to give to people who participated in the session. We had 2 Pocket XShots, an XShot iPhone 4 case and 12 mini tripods. We also had brownies, turtles, books and so much more to give away. That was very fun. Wade even got some gift certificates from Footbal Fanatics and Brad Waller donated an iPhone App to a winner. And I mean an app that people can make or have made. That is HUGE! I have an idea for an app and need to find someone who can execute it.
While we were hanging around we caught up with Shawn Collins and Missy Ward (the creators of Affiliate Summit). It is so great to go to a conference and be known by the founders and be able to chat with them about the conference. Affiliate Summit is one of those great times that I just love being a part of.
While we were talking about the session Patrick and Amanda, who won Gold passes from Geek Dads Weekly and who are friends from Southern New England Media Makers, stopped by. I got today's shot of them with EvaBear. Patrick and Amanda run BuzzFarmers a site that many affiliates should use. I hope that they were able to connect with great people and learn as much as they could and also drum up some business.
The session was a good time. I liked the energy of the room. the one thing that sucked and which always sucks at Summit is that people always get up and try to pitch you on their product. We should have given that disclaimer off the bat. We aren't going to promote your product what we were there to do was to get ideas for a fictional product and then create a viable campaign for that product. Everything from Content Creation (my area of expertise) to how to Monetize and promote (the rest of the panel was great at that). So we ended up using a surfing site as the template. It worked really well, I thought and people offered some great thoughts and actionable items that Jen collected and will be sending out to attendees.
Immediately following the session I ran, literally, out of the room to the taxi stand to get a ride to the airport. I was nervous about not having enough time to get to my flight. I shouldn't have worried so much because I was stuck on the tarmac for an hour and a half waiting to go. I was in a middle seat but as the plane filled up no one was sitting next to me on the aisle. When it looked like everyone was on the plane I scooted over. Yes! I wouldn't have to sit in the middle. Wrong! I guess that when the plane had the mechanical problem they stopped loading people on the plane. so for an hour I thought I was going to be in row with only two people. Nope, didn't happen when the mechanical problem was fixed about 30 more people came on the plane. I couldn't believe that there were that many open seats still left.
The flight wasn't bad. I was able to read some comic books, watch my iPad and catch up with everything that I've been behind on as far as podcasts. I saved a few for the ride home though. The iChair was a bit of a fail though. I was using my Logitech headset to listen to my music and podcasts but that attaches with USB so I used the camera connection kit to use the mic (yes that is something that the camera kit can do). However, the case didn't allow for the camera connection kit to fit. Or so I thought. I found out later that it does in fact fit fine. I'll test it out again ont he flight home.
I landed fine and was picked up by Alex and Joe from a company hired by GM. alex drove me to my hotel room and I unpacked and got ready for the next couple of days.
My itinerary was going to be jam packed!
What is Drew Shooting with?

Model: NIKON D80
ISO: 800
Exposure: 1/1380 sec
Aperture: 5.0
Focal Length: 50mm
Flash Used: No

This is my own personal DSLR camera that I bought half of. My mother-In-Law bought the other half as an investment of great photos of her grandchildren. With over 26,000 photos of Eva and counting, I'd say she got great ROI on the investment. The opinions about them are 100% mine.
How Does Drew Protect His Photos?
Copyright (c) 2020 BenSpark Family Adventures