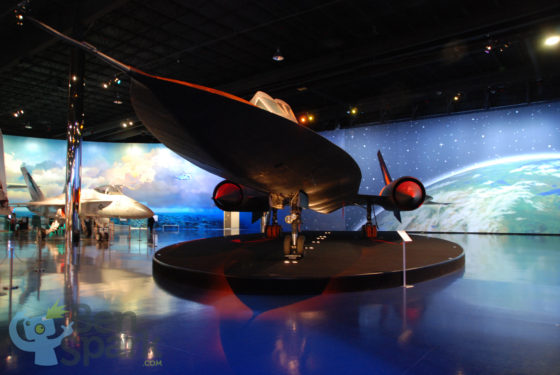 Photo-A-Day #1790
I'm in Kalamazoo, MI today and as such it is what we call a Travel Day in my business. I could have been on planes all day today but choose to travel yesterday and ended up with a free day. I slept late and then took care of a bunch of work that I've been meaning to take care of. I caught up with a few clients projects, I wrote a few posts for BloggingTips.com and RoyalTutorial.com. I even participated in a Geek Dads Weekly podcast with Daniel M Clark and Joe Magennis. That podcast will be up later tonight or tomorrow. I'm very excited about it. And in between that I was able to go to the Kalamazoo Air Zoo.
The great thing about having a blog that is personal in nature is that you can go back through your archives and see if you have been somewhere before. I thought I had only been to Kalamazoo once before but come to find out I've been here twice in the past. In my mind I melded the two visits together but apparently I was here in 2006 and 2008. Two years ago is when I discovered the pizza at Fat Tony's. And four years ago was when I went to the Kalamazoo air Zoo (giftshop) and bought a Airplane shaped kite, that I've never flown. So it seems that every 2 years I must return to Kalamazoo.
The Kalamazoo Air Zoo is a wild place with so many historic aircraft. If anyone is an aviation buff this is a place to see. They have the only SR-71B Blackbird in existence. There is the SR-71A but the B has a second cockpit for an trainer. The other ones crashed. The air Zoo also has a plane that was owned by Howard Hughes and it is home to the largest hand painted mural in the world, it stretches around the entire inner wall of the building. Admission right now is free but you have to pay to ride the rides. I was there to take Evabear photos so no rides for me. I shot with both the D80 and the SD800 and got some decent photos, I uploaded them all to a Kalamazoo Air Zoo gallery through my GiSTEQ phototrackr mini. I used that to capture the GPS info on each image. It probably would have made more sense if I went someone other than that one place but I wanted to test it out for an upcoming review and giveaway.
while I was there I met Jerry an older gentleman who was a volunteer to help familiarize people with the Air Zoo. Jerry told me so many great things about the location and he was very informative. There was also another guy there named Jacob who was younger. He was the one who told me all about the SR-71B being the only one in the world, it is a fantastic looking machine. Jacob also told me a bunch of other cool information. I'm not a huge aviation buff but I could have learned so much about these planes today and been so entertained. Here are a few photos from the Air Zoo.
I'm almost ready to launch something new and should be done with it later tonight. Maybe.
Copyright (c) 2020 BenSpark Family Adventures