Photo-A-Day #2616
Day two of Blog World Expo. I walked over to the Expo again. I'm cheap and need the exercise. I wanted to get there to see Peter Shankman's super session. It was good, as always Peter is a master storyteller. He's entertaining to listen to and he's so very quotable. I talked with him for a bit after the session and remarked on his A year to 10 percent which was amazing. He was on an episode of Road to Thin with us before we imploded.
After the morning session I went to see Lewis Howes speak. I had never seen Lewis speak before and I enjoyed it very much. I met Lewis back in 2009 at Affiliate Summit when he was just starting to come on the scene. It is really great to see what he has done in that time since. He's always been so warm and open to me which is very very cool. He's awesome and has such a great story of success.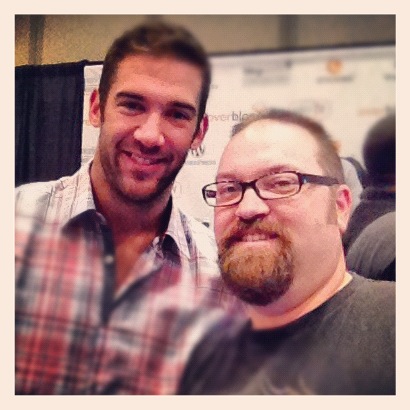 I went to another session about bloggers working with brands but wasn't that impressed. I caught up with my friend Adam Cohen of Dada Rocks again and we chatted a very tiny bit. But that was all the time I had because I had to run up a few blocks to a Toy Showcase event that I had been invited to.
The toy event was a small showcase of various toy companies including one of my favorites Silverlit. It was nice because I got to meet Scott Goldberg in person and that was cool because we had done work together on the SwagsGiving event. I was so impressed by him and his response to an issue I had that he's always gonna be one of those people I'm going to enjoy working with. I hope that we work together more in the future.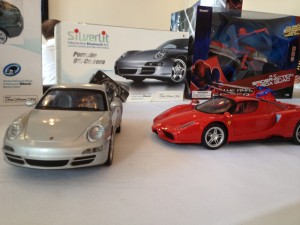 I learned about a program called Tykoon which I want to explore further before I blog too much about it, but I was impressed and want to learn more. I can say that it is an interesting way for kids and parents to look at money.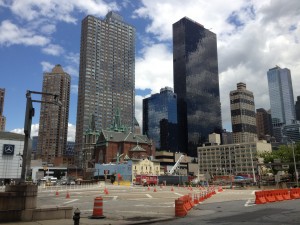 I hustled back to Blog World and skipped the 2:30 session because I wanted to power up and also eat some lunch. I also wanted to visit the show floor. I spent a little time talking to Deb Ng, BlogWorld's Director of Community. We had a nice conversation and then it was time for me to hit the expo floor. I went to IZEA first. They have been the company that I've had the relationship with the longest. And some of my friends were at the booth, Veronique and Carrie. I chatted with them for a bit and was on the lookout for Ted Murphy but did not catch him, tomorrow at his Super Session though, definitely. I caught up with the guys at GTO Management, Joel and Daniel. They have a great Professional Affiliate Program Management company and I love the people that they work with like BowlingShirt.com, MakeBeer.net (The World's #1 Selling Beer Concentrate Kit) and of course BlogWorld and New Media Expo 2012.
I kept wandering the expo and sat and watched John P and Cali Lewis record GeekBeat.tv live. They brought up a few guests including Keenan Cahill, I was excited to see him because he's a very inspiring person and he makes great music videos.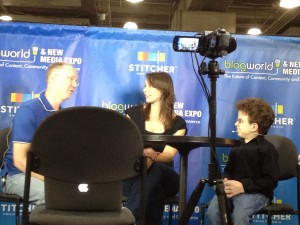 I also went to the TrekDesk booth. Patti from Blog World introduced me to the creator of the Trek Desk is a Treadmill Desk and I am so glad that this was at Blog World Expo because it is something that I've been thinking about getting because I need to do something other than sit in front of the TV while I write my blog posts. I need to move more. And now we have the space for something like this, down in the cellar of the house, in my future man cave.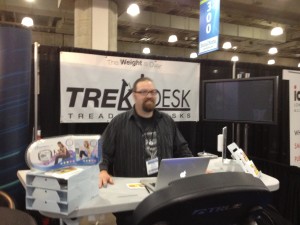 The rest of the day at Blog World consisted of the closing keynote by Chris Brogan. I like watching Chris do his thing. He's a geek like me who has made that work for him. He's got great insight and even though he repeats some things they are important things. I enjoyed the keynote and made sure I said hello after the session. Then I was back off and walking.
I walked to Cafe China for dinner with my good friend Kim Ann Curtin. We had a fantastic meal and conversation. The food there was incredible! We split some appetizers and we also had entrees. Everything was delicious. The conversation was the best though. I love talking with Kim. She's enthusiastic, inspiring and challenging.
My main take away from going to Blog World Expo is the relationships that I am so lucky to have been able to form from attending year after year.
Oh and the title has to do with me taking my own photos of myself and others using my XShot. If you want to Photograph Yourself and others with you then I have a $5 off code for anyone who wants to buy one too and that code is BENXSHOT just go to the XShot Camera Extender site.
>Disclosure: I am an affiliate of MakeBeer.net, BlogWorldExpo, TrekDesk and XShot because they are such cool products. I don't promote junk.
Copyright (c) 2020 BenSpark Family Adventures