Photo-A-Day #2643
I finally got to the beach today. Yesterday I was too wiped out from working the weekend and then driving down to the Cape to do anything but get some sleep. Truth be told, Allison drove but I can't sleep someone else drives. I'm too much of a control freak to let it go. But for some reason I can sleep on a plane, go figure. It was a beautiful day and the water was not cold at all. I went in once with Eva and then later with Allison, Andrew, Eva and my parents. The kids posed together for a couple of shots and this one at least got them looking the same way.
I took the shots with my Kodak PlaySport. This was the newer version that I've been using recently. I took it into the water and took a bunch of photos and a video of Eva. One of our neighbors asked about the camera and I went to show it to him and got and error message that the memory card was not accessible. I got pretty worried right then and there. I took the camera to the chairs and dried it off. I popped open the cover for the memory card and it was wet inside. My camera had failed me and not my photos were gone, or so I thought. I took the camera and memory card home and put them in a bag of rice. I let them dry overnight and then tried the memory card in my computer. Success! The images were accessible to me. I made sure I copied all the photos to my computer because the memory card cannot be trusted any longer. I'm not sure what to do about the camera, I can't believe that it failed me like that.
It was a very nice day and despite having to run home for a recording of Geek Dads Weekly (which did not happen) I got in some pretty good beach time. I even got to read a lot of A Clash of Kings (Book Two of Game of Thrones) I'm actually two chapters away from finishing that book. Eva enjoyed the beach and loved being able to use those giant foam noodles. She had a lot of fun.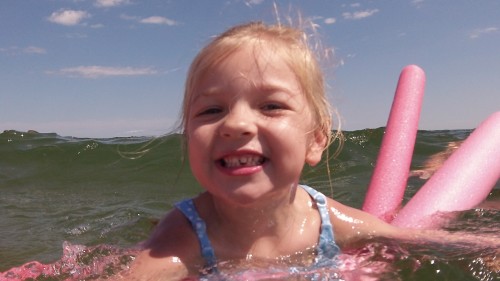 I hope the weather hold tomorrow for the fireworks.
Copyright (c) 2020 BenSpark Family Adventures