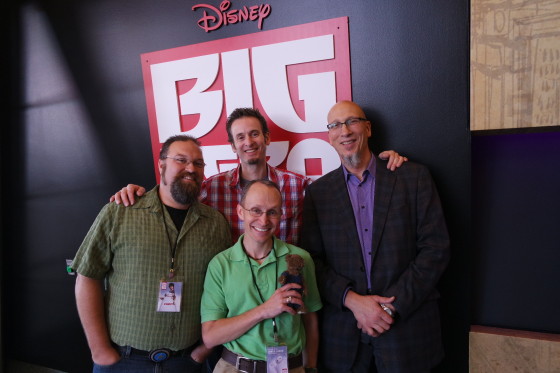 I'm only speculating here but I believe that the upcoming Disney/Marvel Studios movie "Big Hero 6" is going to be the biggest animated movie of the Fall. What am I basing that on? Well a couple months back I went out to California for an all expense paid Press Tour and while I was there I previewed many clips from the movie. I also met and interviewed the creators of "Big Hero 6". My pronouncement that this will be the Fall's biggest animated movie is based upon how excited I was after seeing the clips and learning more about the movie. If the rest of the movie is as compelling and visually stunning as the clips that I saw then this will be the next big animated movie.
Before we saw any of the clips from Big Hero 6 we were joined by Patrick Osborne the First-time Director of an animated short called "Feast" (I have detailed "Feast" in a separate post). He introduced the short and explained the inspiration for it and how it came about. It was fantastic.
After watching "Feast" we viewed clips from the movie, "Big Hero 6" in the Walt Disney Animation Studios. We were joined by "Big Hero 6" Directors Chris Williams, Don Hall and Producer Roy Conli. Christopher and Don introduced each of the clips for us and gave us some insight and background into what the clips were about, how they were made and where the inspiration came from. The setting for the movie is San Fransokyo. They explained how they found different architecture in San Francisco to inspire the buildings of San Fransokyo. Here is one example of how one of the buildings, Aunt Cass's Cafe was created.
We also learned about the the real world research behind the Personal Healthcare Companion, Baymax. Baymax is a big soft robot. His only desire is "how can I help?". The production team spent time learning about soft robots at Carnegie Mellon University and their real world applications.
This clip introduces Baymax to the audience. He's pretty great.
I am fascinated by character model sheets. I love seeing all of the expressions for different characters and the range that the artists create to work from. Animation has always fascinated me. Growing up I loved so many Disney movies and the animation. When I went to Walt Disney World as a kid I looked for anything I could about how animated movies were made. I love that now there is the Art of Animation at Hollywood Studios and we stop there every time, not only to see what is being worked on next but also to visit my friend's in-laws who are Disney animators.
The more I learned about Big Hero 6 and the six members of the team: Hiro, Baymax, Wasabi, Go Go Tomago, Honey Lemon and Fred the more I wanted to see them in action. While we did not get to see the whole team in their super powered armor we did get to see Hiro and Baymax in theirs. Hiro transforms the soft and cuddly Baymx into a meched out warrior robot that can fly. Seeing the whole flying sequence gave me chills. The scenery was stunning, the flight around San Fransokyo was incredible and you see that bonding of friendship between Hiro and Baymax get stronger. I can understand why Hiro and Baymax were recently added as figures to the upcoming Disney Infinity 2.0. It would be really cool if there was a Big Hero 6 Playset in that game. Flying around San Fransokyo would be incredible.
There was a fun scene that we saw where the whole team was together. They were running from the villain, Yokai and his microbots. We got to see a glimpse of the personalities of each team member as they attempted to outrun Yokai and his microbots. Wasabi, ever the cautious and precise, albeit neurotic one was driving the car until our adrenaline junkie Go Go Tomago takes over and things really take off. Fred provides the comic relief and Honey Lemon shows her brilliance. Baymax has some great comic moments with his lines as well as the physical humor of a giant inflatable robot. One scene that is in the trailer has Hiro urging Baymax to run faster to get away and Baymax matter-of-factly replies, "I am not fast". This prompts Hiro to push Baymax along as fast has Baymax's stubby legs will take him. Since he is essentially a balloon some visual humor is of Baymax being stuffed through various tight spaces as quickly as possible.
We learned more about how the story at its heart is about family, the one you are born into and the one that you chose. Hiro has an older brother Tadashi. Tadashi is everything a big brother should be. He may tease his younger brother but when he sees Hiro learning towards less reputable activities he guides Hiro to another path that inspires Hiro. Tadashi introduces Hiro to his friends and Hiro finds a group of people who will help and challenge him to become better. These friends also form the Big Hero 6 team to help Hiro bring the villain Yokai to justice.
Many times through the presentation I got chills. There is something special about this movie and despite the movie being inspired by a lesser known Marvel comic the creators made the characters and story their own. They created this visually stunning world and improved upon the characters and their personalities.
"Filmmakers decided to set their action-packed story in an all-new world that embraced the Japanese influences, but provided a fresh setting unlike anything audiences had ever seen. "I thought about San Francisco," says Hall, "which is cool, but I thought 'What if it was San Francisco mashed up with Tokyo.' It felt more interesting as a setting—more playful and exotic. It was something we could create. And the visual possibilities of those two cities—which are pretty different aesthetically—mashed together felt like a really cool place to set the story."
Conli says that the film's setting wasn't the filmmakers' only twist on the Marvel series. "The original source material gave us six very interesting and brilliant kids that we could explore," he says. "And because we decided to take it into a heightened world, we were able to reinvent the characters for today's audiences." "
This was my first ever trip to the Walt Disney Animation Studios and it was such a cool sight to see. When we walked in there was an entire hallway dedicated to the movie, Big Hero 6. the trailer was playing on a loop and there were giant signs and images around the place like the team image below.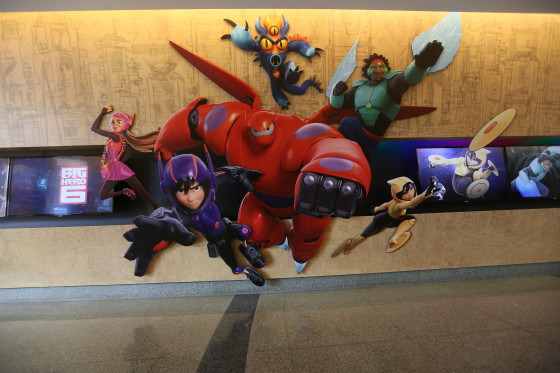 In a large foyer we received out badges which had Big Hero 6 characters on them. I actually ended up with two badges, including one that says staff. The foyer had additional character images.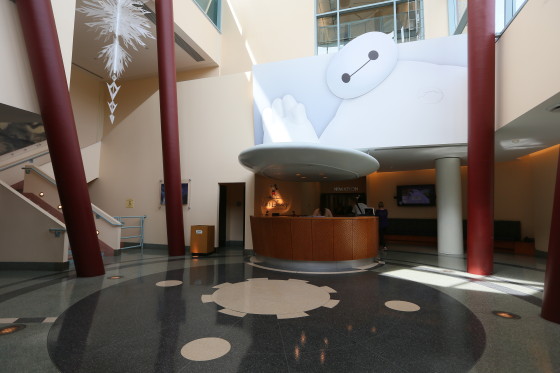 We also saw a wall with various awards that the Walt Disney Animation Studios won for their work including some awards for Frozen.
Right as we walked into to the theater there was a wall of movie stills and conceptual art for Big Hero 6. So much art is created for each animated movie, things that are never seen beyond the production team and so it was fun to be able to get a deeper insight into the movie and how it was made. You certainly gain a deeper appreciation for the enormity of work that is put into an animated production.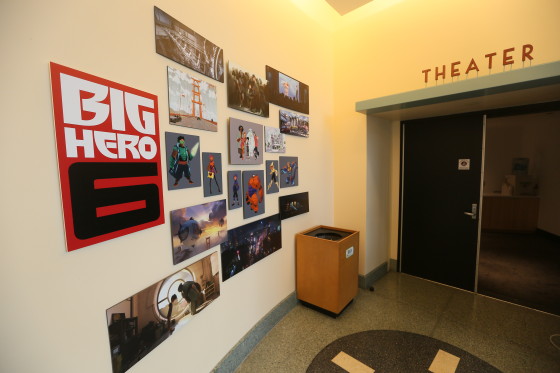 More about the Big Hero 6 movie.
BIG HERO 6 (In 3D)
DISNEY
Genre: Animated Action/Comedy/Adventure
Rating: TBA
U.S. Release Date: November 7, 2014
Voice Cast: "Big Hero 6" features the voices of an extraordinary ensemble cast, including Maya Rudolph (TV's "Saturday Night Live," "Maya Rudolph Variety Show," Bridesmaids") as Aunt Cass, James Cromwell ("Murder in the First," "L.A. Confidential") as Professor Robert Callaghan, Damon Wayans Jr. ("Let's Be Cops," "Happy Endings") as Wasabi, T.J. Miller (HBO's "Silicon Valley," "Transformers: Age of Extinction," "How to Train Your Dragon 2") as Fred, Alan Tudyk ("Tell," "Welcome to Me," "42") as Alistair Krei, Jamie Chung ("Sin City: A Dame to Kill For," "Once Upon A Time," "The Hangover Part II & Part III") as Go Go Tomago, Genesis Rodriguez ("Tusk," "Identity Thief") as Honey Lemon and Daniel Henney ("X-Men Origins: Wolverine") as Tadashi, with Ryan Potter ("Supah Ninjas," "Senior Project") as Hiro Hamada and Scott Adsit ("30 Rock," "St. Vincent") as Baymax
Director: Don Hall, Chris Williams
Producer: Roy Conli
With all the heart and humor audiences expect from Walt Disney Animation Studios, "Big Hero 6" is an action-packed comedy-adventure about robotics prodigy Hiro Hamada, who learns to harness his genius—thanks to his brilliant brother Tadashi and their like-minded friends: adrenaline junkie Go Go Tamago, neatnik Wasabi, chemistry whiz Honey Lemon and fanboy Fred. When a devastating turn of events catapults them into the midst of a dangerous plot unfolding in the streets of San Fransokyo, Hiro turns to his closest companion—a robot named Baymax—and transforms the group into a band of high-tech heroes determined to solve the mystery.
Inspired by the Marvel comics of the same name, and featuring comic-book style action, "Big Hero 6" is directed by Don Hall ("Winnie the Pooh") and Chris Williams ("Bolt"), and produced by Roy Conli ("Tangled"). The film hits theaters in 3D on November 7, 2014.
Find out more about Big Hero 6 on Social Media
Like BIG HERO 6 on Facebook: https://www.facebook.com/DisneyBigHero6
Follow Walt Disney Animation Studios on Twitter: http://www.twitter.com/DisneyAnimation
Follow Walt Disney Animation Studios on Tumblr: http://disneyanimation.tumblr.com
Visit the Website: http://www.disney.com/BigHero6
BIG HERO 6 opens in theaters everywhere on November 7th!
Copyright (c) 2020 BenSpark Family Adventures