Photo-A-Day #2189
Today I had a little minor surgery on my back. I'm good, the only thing I felt was the local. While the doctor was working on me there was no pain and it wasn't till much later tonight I felt anything. It was a cyst removal and they offered to let me see it after it was removed but I declined. I feel that I just didn't need to see that. Not that you needed to read about that either.
The nurses were really nice and they had me talking the whole time. They also thanked me for not screaming or anything because there was a woman in the waiting room who was very afraid. When I left after my procedure she stopped me and asked me if it hurt. She looked so scared. I hope I put her at ease.
I've had quite a few procedures and surgeries over the years. They've all gone well. I'm not afraid of any procedure, like having my cataract removed, I was awake and watching my eye being worked on. Freaky.
After my procedure I took a drive by the house that I Allison and I are going to go see tomorrow. It is the same one we toured on Sunday. This time we will be taking my Dad with us to give it his once over. I wanted to check out the neighborhood with a more discerning eye. It is a mix of multi families and single family homes. I then went to Mom's (Motorcycles of Manchester). I drive by all the time and today I actually had some time. I used to have an AlphaSports GV250. I wanted to see what models they had out there and now they make a 750 version called the Hyosung ST7. Oh man I'm missing having a bike.
After that I caught up with Allison and Eva at Bass Pro Shops. They were walking the nature trail with Allison's friend Shawn and his girlfriend Mel and her daughter. Eva and her daughter hit it off pretty well. They became fast friends.
We went over to Patriot Place and while we were there I took today's Photo-A-Day. We then went to Red Robin for dinner. I got myself my birthday burger and I made it a bacon cheeseburger with blue cheese and jalapeño coins. So tasty. We had a nice dinner and a good time with Shawn and Mel and her daughter. Eva loved it too. Her I am about to enjoy my dinner.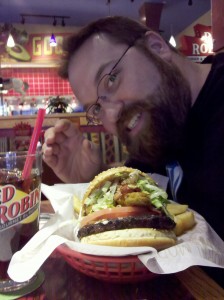 What is Drew Shooting with?

Model: KODAK EASYSHARE M580 DIGITAL CAMERA
ISO: 80
Exposure: 1/400 sec
Aperture: 3.4
Focal Length: 5.2mm
Flash Used: No

Disclosure: I received this camera and the Kodak PlayTouch and 2 Kodak PlaySport HD Waterproof Video Cameras for free from Kodak in return I use them and blog about them. The opinions about them are 100% mine.
How Does Drew Protect His Photos?
Copyright (c) 2020 BenSpark Family Adventures