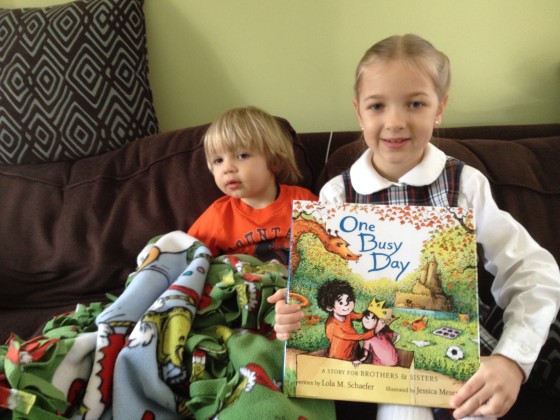 We received a copy of One Busy Day by Lola M. Schaefer and illustrated by Jessica Meserve to read and review. Here are our opinions.
Your first friends are often your siblings. I only have experience being an older brother but remember when you younger sister wanted to do everything that I did and wanted to play with me. Now that I have kids I can see how Andrew wants to do the things that Eva is doing and he wants to play with her and spend time with her. For the most part she is patient and she plays well with him. Other times he's just a little too little to play. As they get older I can see him wanting to spend even more time with her, they love each other very much.
This beautifully illustrated book tells the story of a sister and brother. The sister is younger and she simply wants to play with her brother, however he is too busy. Each time that she tries to play with him he is busy and so she does something on her own. Through her imagination ordinary things take on an extraordinary feel. Eventually the older brother gets curious and decides to play with his sister and together they use their imaginations to have a wonderful adventure. My kids enjoyed the book and loved the illustrations. I have more details about the book below.
One Busy Day: A Story for Big Brothers and Sisters

By Lola M. Schaefer
Illustrated by Jessica Meserve
On Sale: 3/4/14
Age: 3–5
Price: $16.99
ISBN: 1423171128
All Mia wants is for her big brother, Spencer, to play with her. But he's always too busy! So Mia paints, and dances, and explores, and keep busy all by herself. But with a little imagination and a lot of love, Mia might just be able to show Spencer that it's a lot more fun to be busy together.
Lola M. Schaefer (www.lolaschaefer.com) is the author of more than 200 books for children. Her book Frankie Stein was awarded the Children's Choice Book Award and the Mockingbird Award. Lola lives with her husband, Ted, in the mountains of north Georgia.
Jessica Meserve (www.jessicameserve.com) is the author-illustrator of Small Sister and Can Anybody Hear Me? She was born in Maine, studied illustration in Scotland, and worked in publishing as a children's book designer before pursuing a career as an illustrator. Her two young children helped inspire her artwork in this book.
Copyright (c) 2020 BenSpark Family Adventures