Photo-A-Day #2690
Today we went up to Holden to visit Allison's Aunt and Uncle and have a family fun day. We caught up with Allison's Mom's side of the family and had a very fun day. Eva got to play with some of her cousins and second cousins and she had a blast. She played with balloons, sidewalk chalk, bubbles and much more. There was a even a little ball pit in an inflatable swimming pool and Andrew LOVED that. He sat in there for hours playing with the little plastic balls while Grandma Eva looked on. They were both delighted with the situation.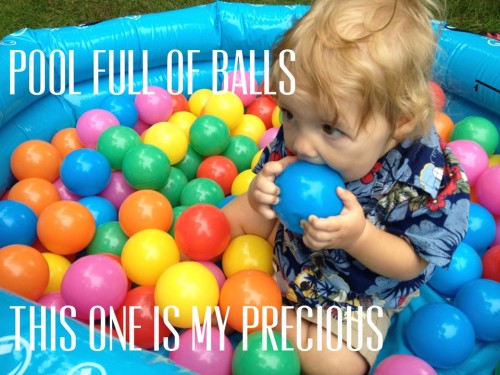 Our Farm Share this past week included over 20 jalapeños. So, for the party I filled them with onion/chive cream cheese and wrapped them in bacon. Uncle Jim grilled them up for us and they came out great. This was a slight variation on Average Betty's Hoffapenos.
I've made these before but never on the grill. Watch out for grease fire flare ups when you do them on the grill. We washed down those Hoffapenos with samples of Wachusett Brewing Company beers. I had their watermelon, blueberry and imperial pumpkin beers, all very tasty. Uncle/Doctor/Father Tom and cousin Jeff put that little taste test together.
We also had a Giant Wicked Whoopie pie for Grandpa Bob's birthday.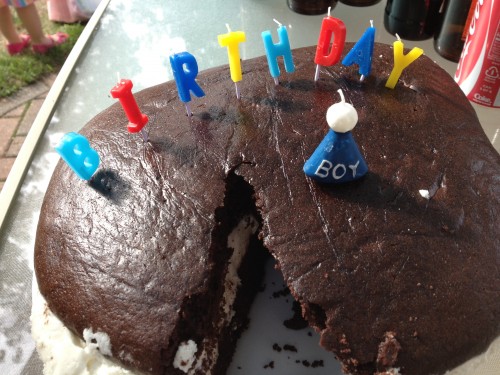 It was a very fun day and on the way home Eva lost another tooth. She's certainly keeping the Tooth Fairy busy.
Copyright (c) 2020 BenSpark Family Adventures