Photo-A-Day #2623
Eva has become very taken with the character of Merida from the upcoming movie BRAVE. She loves seeing Merida on TV. She has a little Merida doll and the other day she said that she really wanted a Merida dress and I promised her that she could have one. There is only so long that a kid enjoys playing dress up and so I want to cultivate that especially if she is dressing up as a strong character. Eva also used her Christmas or Birthday money to buy the bow and arrows. Then she had some fun with Target practice. She's working on her form and where to hold her hands but she is improving.
I cannot wait to go with Eva to see BRAVE in theaters. In the meantime we are reading books about Merida and her family as well as enjoying online things related to the movie. For example Merida has shown up in Castleville for some special quests. Eva watches Allison play the game and loves seeing Merida. We also watch the trailer from time to time and pretty much anything BRAVE related. Things like this content that I have to share with you.
First is a teaser called "Witch Away"
:
Another one that I've got is this very powerful one about how at the central story of BRAVE is family.
So, now that you have a taste of the movie BRAVE how about tasting something from the movie BRAVE. There are two recipes that you can download by clicking the images. (Each image goes to a .pdf with both recipes.)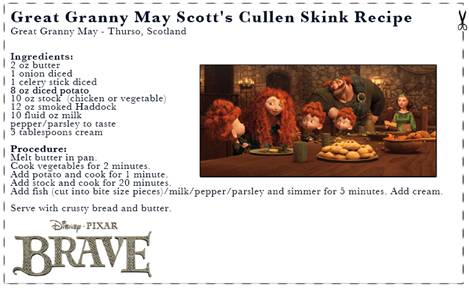 Great Granny May Scott's Cullen Skink Recipe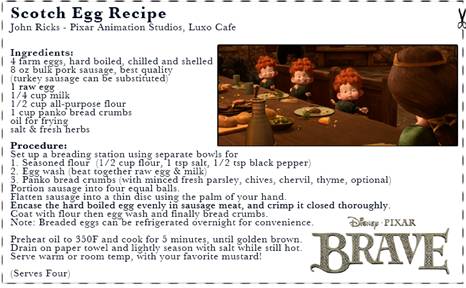 Scotch Egg Recipe
Eva also loves to dance and we can download another .pdf that shows us how to do the Highland Scottische.
And once we are worn out from all that dancing we can do some BRAVE activities from these downloadable activity sheets.
So that is bunch of activities that you can do around the movie Brave. Want to know more about it? Here is the synopsis.
Set in the rugged and mysterious Highlands of Scotland, Disney•Pixar's "Brave" follows the heroic journey of Merida (voice of Kelly Macdonald), a skilled archer and headstrong daughter of King Fergus (voice of Billy Connolly) and Queen Elinor (voice of Emma Thompson). Determined to change her fate, Merida defies an age-old custom sacred to the unruly and uproarious lords of the land: massive Lord MacGuffin (voice of Kevin McKidd), surly Lord Macintosh (voice of Craig Ferguson) andcantankerous Lord Dingwall (voice of Robbie Coltrane), unleashing chaos in the kingdom. When she turns to an eccentric Witch (voice of Julie Walters), she is granted an ill-fated wish and the ensuing peril forces Merida to harness all of her resources—including her mischievous triplet brothers—to undo a beastly curse and discover the meaning of true bravery. Directed by Mark Andrews and Brenda Chapman, and produced by Katherine Sarafian, "Brave" is a grand adventure full of heart, memorable characters and signature Pixar humor. Opens on June 22, 2012, in Disney Digital 3D™ in select theaters.
Copyright (c) 2020 BenSpark Family Adventures