Our very first interview with the talented cast of Christopher Robin was Bronte Carmichael. She plays Christopher Robin's daughter, Madeline Robin. Madeline is a smart and adventurous girl who dreams desperately of making her father happy enough with her so that she does not need to go to boarding school. In the movie Madeline is about the same age that Christopher was right before he went to boarding school. Madeline simply wants her father's love and time. While Christopher certainly loves his daughter, he is just not able to give her his time. This is either due to his job or his being unable to give her what she truly needs.
On my recent trip to California I was hosted by Disney to attend the Christopher Robin Premiere on the Walt Disney Studios Lot and I was also able to interview many members of the cast. Disney took care of my airfare and accommodations, plus meals and some small gifts. I was not paid for my participation and all opinions are my own. I may link to items on Amazon in this article, they are affiliate links for which I receive a small amount of money at no cost to you.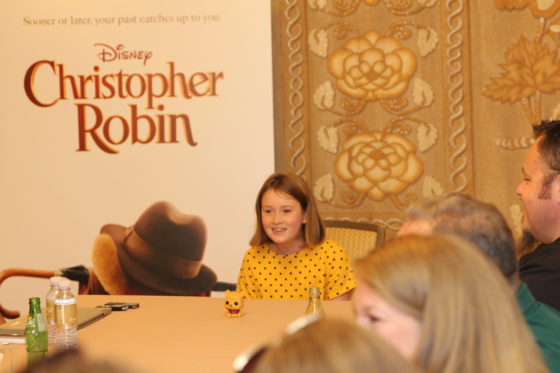 Bronte became involved in the movie through a series of auditions through at least three tapes. Then she went in for a callback audition and to meet Marc Forster, the movie's director. She met with Marc and the producers again a few days later and did a scene. This was early on and it was a scene where Madeline meets the characters from the hundred Acre Wood. It was not used in the movie as the location was changed within the movie from a bridge to a tennis court. Bronte did not know that she had gotten the role. Her mother was told and so her mother put a stuffed Eeyore on a bench in their garden. It had a note tied to its back that said, "Looking forward to our adventure in the Hundred Acre Wood."
Because of this answer we asked if Eeyore was her favorite character. Like all of the actors, they were quite diplomatic in their answers as to which of the characters were their favorite. Bronte said, "You can't really like one. 'cause they all have different personalities. They act just almost like emotions. Eeyore can be gloomy. Sometimes you can feel like Eeyore,. Sometimes you can feel like Tigger, like, really bouncy. I quite like Piglet. At the end of shooting, they gave me the Piglet to take home."
Bronte is a big fan of stuffed animals. She has many at her home and so acting with them came second nature to her. The crew even filled her trailer with stuffed animals. Acting with human actors is a bit different because, "they can be really nice people, really friendly."
Bronte's favorite scene to film was one where she did a stunt and also those where she had to ride a bicycle. So, she quite enjoys the action scenes of movies. she even told us that there were two other girls on set. One was her stunt double and the other her picture double. They were Martha and Anabelle. Bronte explained that they liked to trick people and get them confused as to who was the real Bronte. The girls also used the next door studio to create their own mini James Bond type film. It was at that point that I wanted to ask if she was interested in any other parts of filmmaking like writing or directing but a question got asked about how she was introduced to Winnie the Pooh. Bronte said, "I mean, everyone knows Winnie the Pooh, really. It's a really special character."
A good follow up to the question of how she learned about Winnie the Pooh, however was if she thought that there was ever an age that anyone would outgrow Winnie the Pooh. Bronte said, "No. I think it should always be a special thing. No one should- Pooh is a very special character. He's just so simple. He's not a really baby-ish character." She went on to answer another question about her favorite stories about Winnie the Pooh and she said, "I quite like the House and Pooh Corner. Because each of the characters in it, they will have a story about them. They all show their personality. You know a bit more about them. You meet Tigger and everything."
I shouldn't be greedy about asking questions, though. I was able to get a good one in there. I asked Bronte, "Because the movie has such an emphasis on play. What is your favorite thing to do to just play?" She said, "I play a lot with my sister. I like fun action games. I like making up games and using things that I already have, turning them into stuff. Turning that into something else."
On advice for other children who are interested in acting. What advice would Bronte give them. She said, "I'd just say be as natural as you can and don't let things get in the way of you. Just let it flow and be there in the moment when you're filming."
Bronte's parents are both actors and they play the parents of young Christopher Robin in the beginning of the film. Bronte had many interesting conversations with the young actor who played young Christopher because of how it was strange that her mum was playing her grandmother and her dad was playing her grandfather. Becoming an actor just sort of randomly fell into place. Her parent's friend was a director and they asked Bronte to be in something and after she'd done her first film she found that she really enjoyed it. Her parents advice to her about working on the Christopher Robin movie was that everyone likes Winnie the Pooh, try your hardest, be natural and "They're just stuffed animals, so you don't need to overact things."
During the movie Madeline discovered her father's old drawings of Winnie the Pooh and his friends. She does some drawing as well. Because of this we asked is she liked to draw like her character did. Bronte said, "I've been drawing since I was about three. Because my name's Bronte, I did these "B" people. I drew a "B" and then I drew faces on them and stuff. Then it kind of evolved. I like to draw a lot. I was just drawing before I came down today."
Bronte was asked if she had a favorite line in the movie. she liked one scene where she was speaking with Pooh. "Madeline's explaining to Pooh that you can't just, nothing comes from nothing, and then Pooh tells her that nothing is the very best something, and that's the line that I remember the most of it."
For our last question we asked Bronte that despite not having one favorite character was there still one character that she might relate to more than any other. She said, "I think I'm either like Piglet or Tigger. So Piglet, sometimes I can be nervous about some things, especially with acting. There can be certain takes that you aren't that confident on, you can feel like Piglet sometimes. Then when you're like Tigger you can be really excited about something. I was definitely excited about coming to Disneyland. While I was in LA, so I felt like Tigger.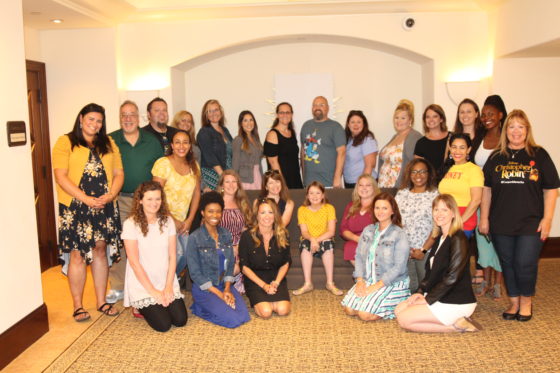 Please take the time to visit my fellow bloggers and see what they have to say about Bronte Carmichael's role in Christopher Robin.
You can follow everyone on Twitter on my #ChristopherRobinEvent Twitter List.
You can view the adorable trailer below.
CHRISTOPHER ROBIN In Theaters Now!
Copyright (c) 2020 BenSpark Family Adventures