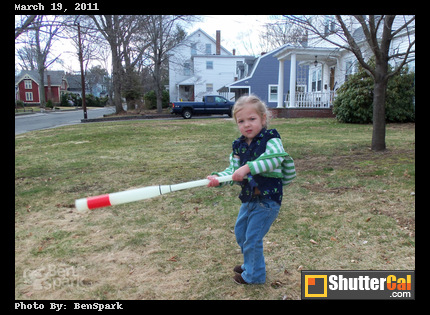 Photo-A-Day #2171
Eva's ready for the majors. She's already got a powerful little swing after I showed her once how to hold the bat. She's holding a Junk Ball bat. The bat is a Glow in the Dark one and so is the ball. I haven't had a chance to play with it in the dark yet but I can't wait.
On my way home from work if I take the backroads I drive by Little Kids, Inc (@little_kids_inc) in Seekonk, MA. One day I put two and Two together and realizes that the giant no spill bubble bucket that Allison picked up one day was made by Little Kids, Inc. We love using it because it has three wants and Eva can dunk the wand into the bucket, get bubble mix and start blowing bubbles easily. And she can knock the thing over and it DOES NOT SPILL! Maybe it is the OCD neat freak in my but I love it!
So when I connected the dots I thought, hey, I'd love to tour the facility and meet people from the company and learn more about them. So I sent a message and asked. This has not come to pass but we did get a Little Kids, Inc care package in the mail. It contained these great items: The Original No-Spill® Bubble Tumbler®, The Blastos!™ Bubble Twister®, A bottle of Blastos! Bubbles™ Premium Solution, A Jelly Belly® Scented Giant Bubble Wand (Grape) and a Junk Ball Glow in the Dark Bat and Ball.
Eva and I had a great time playing with the care package. We started with the Jelly Belly Giant Bubble Wand. Eva was running all over the yard chasing those bubbles that smelled great too! Then Eva used the wand herself. This toy is really not for a very little kid because to be honest she gets forgetful and will try to put it on the ground and spill or tip the bubble container. So I held that container myself. She did have fun playing with it though.
We opened the Original No-Spill Bubble Tumbler. This was the perfect toy for a little kid because no matter what they do they are not going to spill that tumbler.
Attractive packaging and perfect size for little bubble blowers
Cute Design and enough Bubbles for a fun time.
Eva helps me pour in the Bubble Solution
Eva can easily dip the wand herself, doesn't have to put her hands into the solution.
There's no Trouble when your Bubbling!
After we got to playing with the bubbles Eva took an interest in the Junk Ball and Bat. At first she was not excited about this, she did not know what to do with it and wasn't interested. Eva decided that she'd like to play with the bat and ball.
Batter Up!
Throwing it right down the middle.
We had a great time and I took some video as well. I haven't put that together yet but will soon. I've also got to get the The Blastos!™ Bubble Twister® in action, that looks like it would be fun for a bunch of kids to play with and run around popping bubbles.
We had a great time playing with all the Little Kids, Inc toys from the care package. Thank you Little Kids, Inc!
Disclosure: I contacted Little Kids, Inc for an interview and told them how we loved the Little Kids Toys we already owned. The Opinions of these toys are 100% mine.
What is Drew Shooting with?

Model: KODAK EASYSHARE M580 DIGITAL CAMERA
ISO: 80
Exposure: 1/160 sec
Aperture: 3.4
Focal Length: 5.2mm
Flash Used: No

Disclosure: I received this camera and the Kodak PlayTouch and 2 Kodak PlaySport HD Waterproof Video Cameras for free from Kodak in return I use them and blog about them. The opinions about them are 100% mine.
How Does Drew Protect His Photos?
Copyright (c) 2020 BenSpark Family Adventures