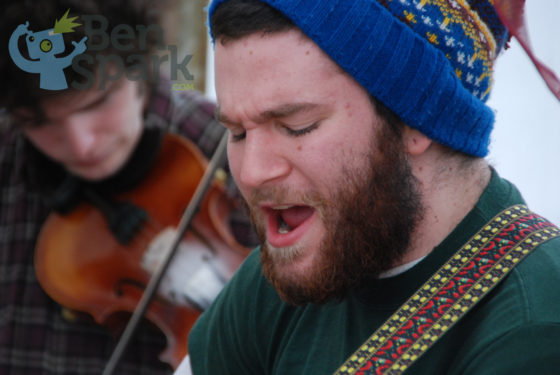 Photo-A-Day #1752
Today Allison, Eva and I went to the North Attleborough Winter Farmer's & Artisan Producers Market. While we were there we listened to the sounds of Cactus Attack. I enjoyed the sounds of this band very much. They were playing over in one corner of the building and I took a number of shots of them as they played.
The rest of the day was pretty nice and quiet. We went to early church for a prayer shawl blessing. Allison is working on a prayer shawl for a friend of the family and she is getting very close to being done. Another member of the prayer shawl ministry knit one for Allison and she received it after Mass. It is beautiful. We were invited to go to a pancake breakfast put on by the North High Wrestling Team. We hadn't had breakfast yet so we said sure and headed over to the Elks. I had no camera or phone. So many missed opportunities to cover more local events.
All in all a rather lazy day but both Allison and I completed our homework for Financial Peace University. We had to read chapters 1-3 and 10 of Financial Peace Revisited. The information inside is simple but good. The concepts make sense and are simple to implement but not easy. This process will not be an easy one but it will be worthwhile.
I did notice something funny on the cover of the book. There was a big circle that said something like: All new cover design just for Financial Peace University. Is a new cover really a selling point, really? Seems like a throwaway announcement to me.
We were tired so we just watched an episode of Chuck (cliffhanger that made me want to watch the next one on the DVR, too) and then went to bed. So exciting.
Copyright (c) 2020 BenSpark Family Adventures