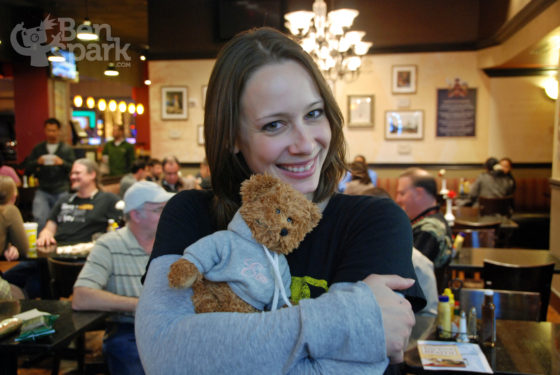 Photo-A-Day #2100
Today I met one of my top 10 online awesome-est people. I finally met Cali Lewis. After missing out on meeting her during two BlogWorld Expos and after following her podcast for over three years I finally met her. I'm in Las Vegas for a couple of days for the Consumer Electronics Show, Affiliate Summit and then I leave for Detroit for the North American International Auto Show. On my flight here I caught up on my backlog of video podcasts including GeekBeat.tv, Cali's Show. She usually does tweet ups and so I checked to see if she said anything about doing a TweetUp while she was here. Luckily I caught the tweet showing that she was having a TweetUp at Earl of Sandwich over in Planet Hollywood Casino. Daniel and I headed over.
I'm rooming with Daniel M. Clark, my co-host for Geek Dads Weekly as well as for Road to Thin, for the next two nights. He's really great to have given me a place to stay. I basically had to eat a big chunk of change for cancelling my existing flights and nights at the hotel because of the possibility of snow tomorrow. I was already losing that money because of my extended trip to Detroit for the Auto Show. I'm very grateful to Daniel for his hospitality. We had a nice lunch when I arrived and then we hung out in the room a bit. He's got a major podcasting setup here in the room too. Very cool.
Daniel also set up a network in the room so we could both get online.
Once I got online I was able to read a .pdf from the GM crew about some interviewing opportunities that I will have at NAIAS. The document also showed some additional people who were going to be attending. And two of those people were Cali Lewis and John P. So, when we went to the TweetUp I was able to tell Cali that we'd be hanging out in Detroit and also thank her in person for helping me with some advice on my Wired Kayaker podcast. There were a ton of people wanting to meet Cali so she quickly let me take this photo of her with EvaBear and then Daniel took this photo of the two of us.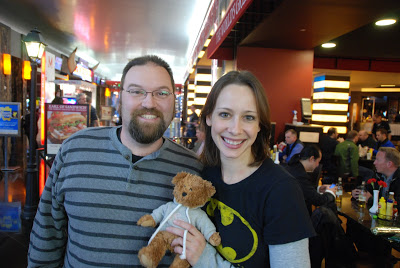 Daniel and I also introduced ourselves to John P and talked to him for a while about podcasting and many other topics. I had a very nice time at the TweetUp.
We headed back to the hotel and stopped at a restaurant at the Flamingo for dinner. Then continued on to the Wynn to meet Jill Swartwout (@Jilly_Beans). We caught up with her and I started feeling the jet lag and decided to head back to the hotel. I decided to walk back. As I was going up the escalator I see two guys fighting with each other. They were wrestling around and throwing punches. I'm going up the escalator and have no way to go anywhere else. Once I get to the top they were done fighting and a city worker is getting into it with one of the guys. I keep walking and see two guys telling the security team from a hotel about the incident. I keep walking and go back down the other escalator on the other side of the bridge just to see a contingent of police on horseback arrive. Their response time was very quick.
Well, off to bed for a long day on my feet tomorrow at CES.
What is Drew Shooting with?

Model: NIKON D80
ISO: 800
Exposure: 1/13 sec
Aperture: 4.0
Focal Length: 28mm
Flash Used: No

This is my own personal DSLR camera that I bought half of. My mother-In-Law bought the other half as an investment of great photos of her grandchildren. With over 26,000 photos of Eva and counting, I'd say she got great ROI on the investment. The opinions about them are 100% mine.
How Does Drew Protect His Photos?
Copyright (c) 2020 BenSpark Family Adventures