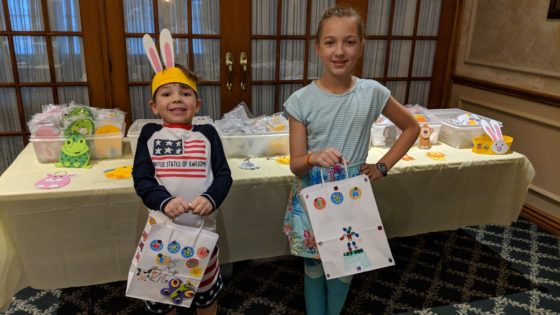 Photo-A-Day #4734
We have been compensated with a two-night stay at the Cape Codder Resort and additional amenities. Opinions are 100% our own.
Today we headed down to Cape Cod for the weekend. We were headed to The Cape Codder Resort for a couple of nights and also to Mom and Dad's for Easter Sunday. But first we went to visit with Grandma and Grandpa Bennett. We had about 2 hours to visit before Grandma had to leave and we had to come down to the Cape Codder Resort to meet with our contact, Deb, the Vice President of the Catania Hospitality Group. Catania Hospitality Group is a family owned and operated business which includes five Hearth 'n Kettle Restaurants, the Cape Codder Resort & Spa, The Dan'l Webster Inn & Spa, and the John Carver Inn & Spa. The organization was started in 1973 by V. J. Catania with one Hearth 'n Kettle Restaurant and has been thriving ever since.
Deb showed us all around the property. We started the tour with the kids in tow. They couldn't wait to see the Water Park and go swimming but there is so much more here than the Water Park. Our room is one of the newly remodeled family suites and it is wonderful. Deb personally designed the look of each room and decorated it with one of a kind artwork from local Cape artists. You can see the pride and attention to detail all over the resort.
The resort has a spa on location and Deb gave me a tour. It looks amazing. We continued on to tour one of the residences of the Cape Codder Residence Club. These three bedroom residences are incredible. I was blown away with how beautiful they look. The residence that we were in was overlooking the outdoor heated salt water pool. This pool is open all year round and it is beautiful. At night it is lit up and a waterfall starts flowing and there is also a large hot tub at the front of the pool. I haven't gone swimming in it yet. We will go to it tomorrow.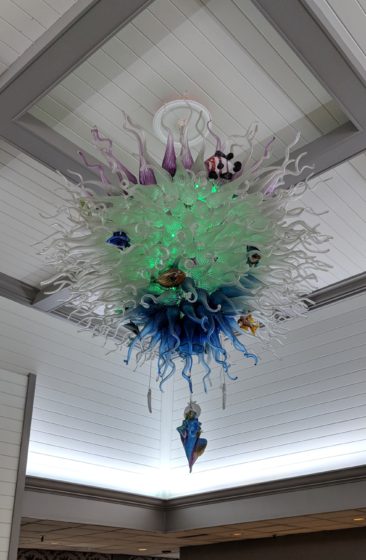 Walking into the resort's lobby you immediately see this big beautiful custom chandelier which was created by Cape Artisans. We actually have an art piece from one of the artists, Bryan Randa. He was one of the artists that contributed to creating this chandelier with over 400 hand blown pieces of glass including twelve fish, three scallop shells and one large Whelk shell. It was done by McDermott Glass Studio of Sandwich, Ma. It is quite impressive.
Before we got a chance to go to the pool we went to one of the fun activities that was going on at the resort for Easter weekend. There are many events going on including movies, a bunny hop dance and an Easter egg hunt on Sunday. The first activity was an arts and crafts event. When we checked in both kids received a white paper bag with some Easter eggs, candy and even a $3 game card for the arcade. They took their paper bags to the crafting area so that they could decorate them. They also made some other crafts like little chicks and a bunny hat.
Instead of going right to the pool after the arts & crafts activity we went to the on site Hearth and Kettle for dinner. We were provided with a gift card for food from the multiple restaurants on site. Allison and I shared the Fisherman's Platter above. It was really good. It has been a few years since I've been at a Hearth & Kettle. It was as good as I remember. We did not do dessert but there were these amazing looking Easter cupcakes in a case on the way out.
We may have to get one of them to share for tomorrow night. There were also some excellent looking cookies as well. Some looked like Easter Eggs and other ones had Easter M&Ms on them. So much deliciousness in that case.
We then went back to the room and changed for the pool. We were there during a quieter time because most people were having dinner. We took advantage of that to enjoy the lazy river. Lazy river may not be that accurate because every 15 minutes sirens go off and the speed of the river picks up and the water gets more active. We enjoyed that very much. The lazy river goes around a large lighthouse that is where people can climb the stairs to get to the water slides. We'll probably check those out tomorrow. Andrew is 2 inches too short to ride any of the slides and he's bummed out about it. That is a regulation that the resort as to follow for safety reasons. I can understand that he's not happy about it. Eva is going to try them and so will I.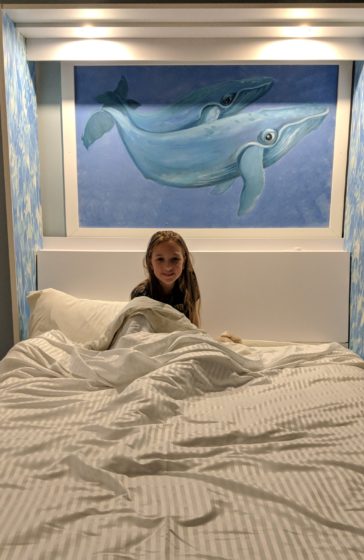 We went back to the room and watched the end of a family movie while we wound down from the day. The kids were excited to get in the beds. Eva is sleeping in the Murphy Bed. We were so tickled to see the whales on the painting above the bed. Andrew found himself sleeping on the couch right below some mermaids. Everything in the room is so beautiful.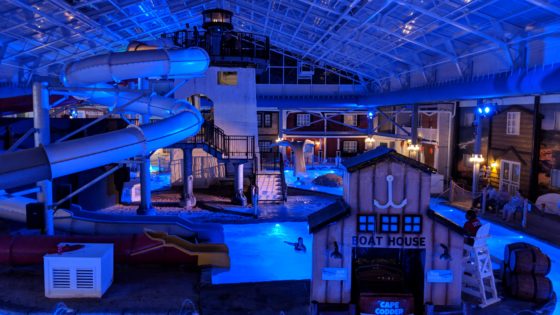 After the kids went down for bed I went out and took some night photos and popped over to the Stop and Shop across the street (convenient) to grab a few things that I had forgotten. It was nice to come back to the room and to be able to enjoy a movie with Allison without worrying about waking the kids. More fun tomorrow.
Copyright (c) 2020 BenSpark Family Adventures