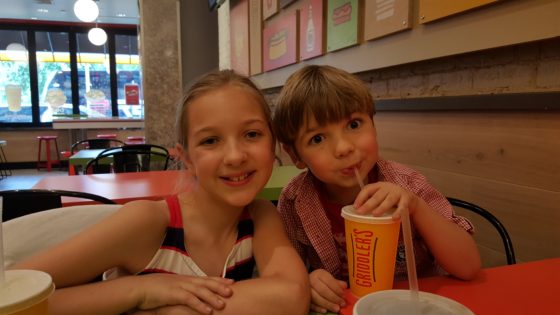 Photo-A-Day #4445
I took the kids into Boston to see a press screening of Cars 3. We were provided tickets to see the movie. Still cost over $50 for the adventure (dinner, parking , $14 for 3 bags of candy) but the tickets were free. Opinions on the movie are entirely our own.
From the first moment of the Cars 3 Teaser Trailer months and months ago I knew that something special was coming from the franchise. I was personally disappointed in the direction that Cars 2 took. Even though the trailer gave me chills I still held in reserve my anticipations of the movie being good. After seeing the movie last night, cheering with the assembled crowd, laughing out loud and tearing up I can unequivocally say that Cars 3 was the sequel to cars that always should have been. It was fantastic! I loved the new character of Cruz Ramirez and she is a character that your kids will also love. This movie pays tribute to the past and looks to the future in such wonderful ways. I absolutely loved Cars and Cars 3 was well worth the wait.
Our adventure brought us into Boston to have dinner at Griddlers, wait out the giant downpour and then venture to the AMC Theater. There we took our seats in the Press section and settled in to watch the movie. Behind us were 7 or 8 13 year old boys who were excited to see the movie because they were fans ever since Cars came out. This means that they were 2 when Cars came out in 2006. Boy did I feel old at that one. They were pretty good but one kid was telling a story, very animated, and he kicked my seat. I turned around and really didn't say anything. He got really quiet and then I heard him ask a friend if he could switch seats. I didn't even say anything to him. I guess I just looked scary. I kind of felt bad because I never handle those situations well.
Blindsided by a new generation of blazing-fast racers, the legendary Lightning McQueen (voice of Owen Wilson) is suddenly pushed out of the sport he loves. To get back in the game, he will need the help of an eager young race technician, Cruz Ramirez (voice of Cristela Alonzo), with her own plan to win, plus inspiration from the late Fabulous Hudson Hornet and a few unexpected turns. Proving that #95 isn't through yet will test the heart of a champion on Piston Cup Racing's biggest stage!
Directed by Brian Fee (storyboard artist "Cars," "Cars 2") and produced by Kevin Reher ("A Bug's Life," "La Luna" short), "Cars 3" cruises into theaters on June 16, 2017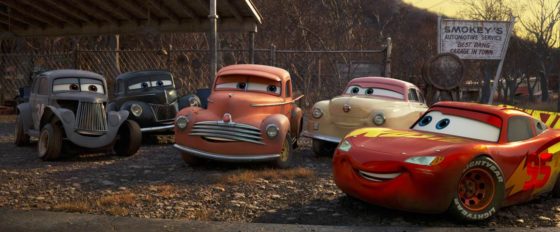 Like CARS on Facebook: https://www.facebook.com/PixarCars/
Follow Disney/Pixar on Twitter: https://twitter.com/DisneyPixar
Follow Disney/Pixar on Instagram: https://www.instagram.com/pixar/
Visit the official CARS 3 website here: http://movies.disney.com/cars-3
CARS 3 opens in theatres everywhere on June 16th!
Copyright (c) 2020 BenSpark Family Adventures