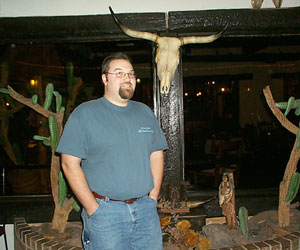 I'm in El Paso with a couple of other specialists for the PSH LIVE (post LIVE, weirdest LIVE trip, ever). Tonight we went to Cattleman's Steakhouse at Indian Cliffs Ranch for dinner. We had a great dinner there. I had a Filet/Bacon Wrapped Shrimp Kabob. Each of us tried this drink made from lemon juice, beer and was served in a salted glass. I forget the name of it, but it was interesting, not something I'd recommend, but interesting.
I had visited Cattleman's on a previous trip to El Paso, when it was summer. I was able to get some good sunset photos that trip, but tonight it was dark by the time we arrived, so I couldn't get any good photos. Liz took this photo. Thanks Liz! And pretty skillfully too I might add (notice no flash glare.)
Cattleman's Steakhouse has been host to movie sets for films such as Courage Under Fire and Resurrection (never heard of it).
I also had my first sighting of Alternator Smokescreen today at Target. I can't wait to get this Transformer. It is so well designed.
Anyway, I'm looking forward to getting home.