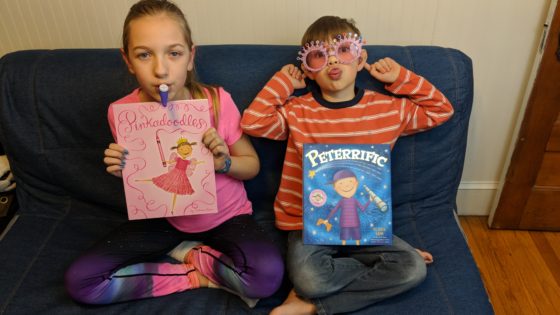 Photo-A-Day #4693
Back when I attended the PBS Annual Meeting I got a sneak peek at the upcoming PINKALICIOUS & PETERRIFIC show for PBS Kids. This is a show based on the characters created by Victoria Kann and her best selling Pinkalicious series. I was excited about it because we used to read Pinkalicious to Eva when she was younger. We also read it to Andrew who enjoyed the antics of Pinkalicious' little brother, Peterrific. As a parent of a couple of very creative kids who are very much like Pinkalicious and Peterrific it was a great series to read. The new show will premiere on PBS Kids on Monday February 19th.
While Eva is a little bit too old for the series I learned that Andrew was a big fan. He's been watching them on the PBS Kids app on his iPad. I like that he's found something like this show instead of something mindless on YouTube. The new show encourages kids to engage in the creative arts and self-expression, covering areas such as music, dance and visual arts – all proven to strengthen children's cognitive and emotional skills and help them learn more effectively.
Both of the kids are very expressive and creative. Seeing a show that celebrates those qualities is very essential. PBS Kids sent us a care package with some fun items inside to help kick off the new show. they included a copy of the book, Peterrific and also Pinkadoodles, a doodle book that encourages creativity. However, you don't need one of these books to celebrate the premiere of the show. There are some great craft and party ideas that I can share with you.