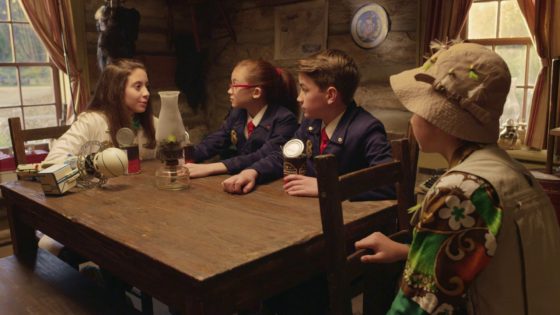 ODD SQUAD is one of our favorite shows to watch as a family. This is one of the funniest kids shows on TV. The kids are also learning great math skills while they watch so I am happy when the kids choose to watch the show together. These ODD SQUAD movies are also very fun to watch. Our favorite one was when the older team worked with the new team. I don't know if the cast is going to rotate again but it makes sense because the kids will age out of the show. You can learn more about the movie ODD SQUAD: WORLD TURNED ODD which premieres on January 15th on PBS.
PBS KIDS Debuts New Movie From Family-Favorite Series ODD SQUAD This January
ODD SQUAD: WORLD TURNED ODD Premieres Monday, January 15
Arlington, VA, December 7, 2017 – On Monday, January 15, PBS KIDS will premiere a brand new one-hour movie from the multiple Emmy Award-winning series, ODD SQUAD. In ODD SQUAD: WORLD TURNED ODD, agents Oona, Olympia, and Otis accidentally change the past and undo every odd case Odd Squad ever solved. The agents embark on a mission across time to set things right, using a variety of math skills and teamwork. Following the "odd" movie premiere, fans can stick around for a special sneak peek of PBS KIDS' newest upcoming series, PINKALICIOUS & PETERRIFIC, which premieres February 19.
"We hear from families often about what an impact ODD SQUAD has had on them, and how much they enjoy watching it together," said Lesli Rotenberg, Senior Vice President and General Manager, Children's Media and Education, PBS. "With ODD SQUAD: WORLD TURNED ODD, we hope kids and parents continue to laugh and learn together as Agents Otis and Olympia use math and problem-solving to face their newest challenge." Continue reading ODD SQUAD: WORLD TURNED ODD Premieres on January 15th →