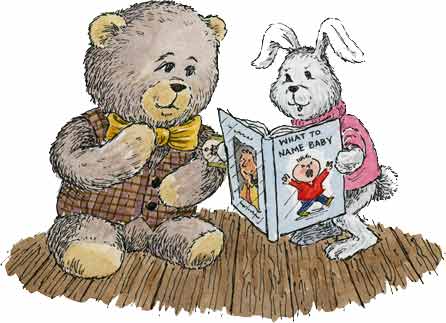 Before Eva was born I would read to her. When I was traveling I found it difficult to always remember to bring a book with me and read it over the phone to Allison and Eva. On one trip I had forgotten a book and so I did a search for children's stories. What I found was a beautiful little story about Wolstencroft the bear. The story was written by Karen Lewis and illustrated by Michael S. Weber.
The Story
The story is of a teddy bear named Wolstencroft who finds himself left on the shelf in a toy store. All the other teddy bears found homes and so did some bunnies. Wolstencroft is persuaded by a stuffed rabbit to shorten his name to Woolly so that someone will buy him and take him home and love him. Wolstencroft loves his name but figures that his name is the reason that he is not being sold. So the rabbit writes Woolly under his name and still Wolstencroft is not sold. That is until…
The Illustrations
Michael's illustrations are wonderful. They are colorful and detailed with a style that fits the story of Wolstencroft the bear very well.
The Message
While Wolstencroft does change his name and therefore a key part of himself he merely changes it to a nickname which in the end is something that shows the specialness of his true name. Being unique is not often easy and being lonely is hard I would say that Wolstencroft is about adapting as well as not giving up on oneself. However I feel the story message could have been stronger about being unique and true to oneself.
Final Thoughts
The story is a very nice read. Out of the stories I read on the Children's Storybooks Online website i was by far the best. The story was long enough for parent's attention spans and not too long for a child plus the repeating of the phrase "no hug is too big for a teddy bear" was very cute. I think Eva deserves a Build-A-Bear named Wolstencroft.
Read to Me Dad Ratings

Story – Good
Re-Readability – Excellent
Illustrations – Excellent
Message – Good – could be stronger
Plot – Good – message brings it down a bit
Characters – Excellent
Does Eva Like It – Yes she smiled and smiled as I read this to her. Yes I read it to her after she was born too.
Recommended Ages – for Young Children