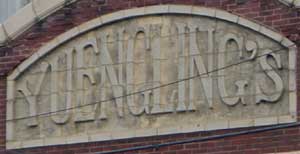 Merry Christmas Eve everyone. Beer, is there anything more festive than beer during the holidays. Especially good beer. Which brings us to Yuengling Lager. Yuengling is the official beer on tap almost all over Pennsylvania. Go into any bar in PA and ask for a Lager and most often you will be handed a Yuengling. Yuengling is pronounced Ying Ling or [Lah Grr] unless you didn't know.
Allison introduced me to Yuengling. And being a person who enjoys beer, I understood the obsession with Yuengling. Every trip that we take to Susquehanna University (Susquehanna University will be known as SU for the rest of this post) we pick up a case or two to bring home.
One trip we even went to the Brewery and took a tour. That was a very fun trip and an interesting learning experience. Yuengling Brewery is not very technologically advanced, you can actually take a beer of the line. There is a high school kid who is watching over the group to prevent this from happening. When you are on the tour you pretty much see it as down and dirty as it gets, from the mash containers to the loading dock and bottling line it's totally raw. And then at the end of the tour your get FREE BEER! Yes, I know this is a common occurrence for many brewery tours but we got a decent glass of beer not some wussy sip from a thimble. What a great tour. If you are ever in Pottsville, Pennsylvania this is one stop you can't miss.