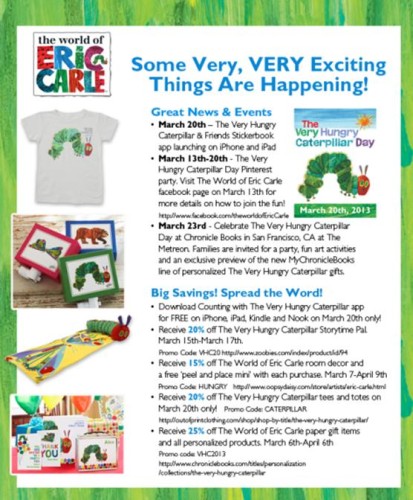 Did you know that March 20th is The Very Hungry Caterpillar Day? It is a day to celebrate Spring inspired by Eric Carle's iconic story. The Very Hungry Caterpillar is a story that we've enjoyed reading to our kids many, many times. We even have a stuffed Zoobies of The Very Hungry Caterpillar that I reviewed a while back, here's that video.
There are a bunch of activities leading up to the day but also something happening on March 20th that I know my app users are going to love. On March 20th the Counting with the Very Hungry Caterpillar app will be free to download on iPhone, iPad, Kindle and Nook. Additionally there are some other events as pictured on the image above but you can download the PDF version for better reading.
You can also visit The World of Eric Carle on Facebook, Twitter and Pinterest, where they offer free downloadable activities, craft and activity projects to enjoy with your family, as well as other inspirational ideas.
Copyright (c) 2020 BenSpark Family Adventures