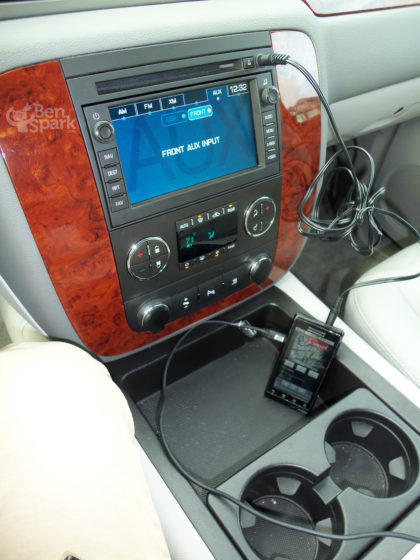 Photo-A-Day #2026
I've been driving the Chevy Tahoe Hybrid since last Friday and I've done over 1100 miles in it so far. I've actually started getting so comfortable in it that I almost thought it was my own car. I'm going to be sad to see it go on Wednesday when it gets picked up. I've been filming little segments about ti that I will put in a review when I'm done using it but I can say that it has been a pleasure to drive.
Today I put it through a few more paces. I took the rear seats right out of it and put the middle seats up against the front seats and cleared out enough space to fit a twin and a half size mattress in the back. The Tahoe came in handy because I had to run up to New Hampshire and pick up a bed from our family friend. It is an iron fame bed with a mattress and box spring. I was able to put the whole thing in the Tahoe. That is something pretty useful about the Tahoe, it has tons of room. The downside is everyone who might want you to help them move.
So, after a quick run up to NH and back I was home in time to spend some quality moments with Eva as she played with her new present from Aunt Sandy, a Fur-Real Dog. She LOVES it. I think she just really loves things that she can hug. She tries to hug the heck out of the cats but they are hearing none of that.
The Sunday Episode of Geek Dads Weekly is up.
My suitcase from BlogWorld Expo and my box of swag from BWE arrived today. I opened them up only to find a bunch of things that I sort of remembered getting. It was like Christmas. There were Seagate, Kodak, Elmers, GormetGiftBaskets.com and other items inside the box and suitcase. The thing is that most of these are not for me, they are for my upcoming giveaway month of November called SwagsGiving. I'm going to pull together everything that I am giving away into one massive pile and then try and figure out how best to run this contest. Let's just say that there is some amazing stuff up for grabs.
I mentioned Elmer's. I received a large plastic tub filled with products from Elmer's and X-acto. It is for the Elmer's Crafting Challenge. I'm not part of the challenge or anything, I got the box because I had room in my suitcase (thank you UPS for the free shipped boxes from BWE). Anyway want to disclose that I got this free. I was very surprised at everything that was inside. I didn't think of Elmer's as an option for scrapbooking before. I guess I was wrong. Look at all this stuff.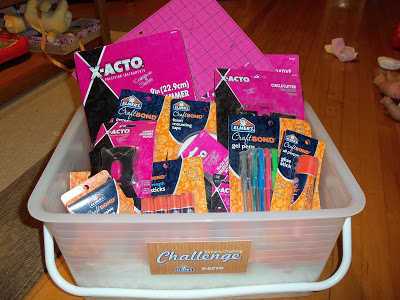 That is a pretty sweet set of supplies. We should be good to go when we move into a new place and actually set up the crafting room. There is no chance of that with the current crafting room. That room doubles as an office and complete catch all room. It just got fuller last night with the addition of a bed frame, box spring and mattress. Yikes.
What is Drew Shooting with?

Model: KODAK EASYSHARE M580 DIGITAL CAMERA
ISO: 400
Exposure: 1/3 sec
Aperture: 3.4
Focal Length: 5.2mm
Flash Used: No

Disclosure: I received this camera and the Kodak PlayTouch and 2 Kodak PlaySport HD Waterproof Video Cameras for free from Kodak in return I use them and blog about them. The opinions about them are 100% mine and the links are affiliate links.
How Does Drew Protect His Photos?

Model: GoFlex™ Ultra-portable Drive CAMERA
Interface USB 2.0 or 3.0
Capacity: 320GB – 1.5TB
Automatic Backup Software:PC & Mac:
Weight (typical): 150g (.33 lb)
Software: Pre–loaded backup software with encryption

Disclosure: I received a number of Seagate devices including the Seagate FreeAgent GoFlex 1 TB USB 2.0 Ultra-Portable External Hard Drive, GoFlex Home, GoFlex TV and GoFlex Net. I'll be talking about these devices in the coming months. The opinions about the devices are 100% mine and the links are affiliate links.
Copyright (c) 2020 BenSpark Family Adventures