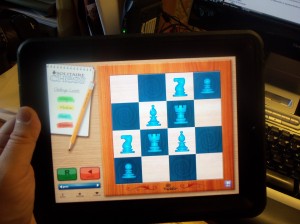 I've been spending a lot of time testing out and playing with different apps on my iPad. I was recently given a download code for Think Fun's newest app called Solitaire Chess. This is a great combination of two fun and challenging games. The overall point of the game is to leave one figure on the board. The game starts of pretty easy where you have three pieces on the board and it is simple to solve the puzzle. There are four levels of play on this app as well. Each level has 100 boards to play. That is over 400 challenging game boards to complete. I am only 50 boards into the easy boards and loving it.
Solitaire Chess works perfectly on the iPad. Easy finger swipes to move the pieces around. If you hold your finger on the piece than you can see all possible moves that it makes. So, if you are not a chess player you can pick up this game very easily. I like how this game gives you a a few moments to yourself to challenge your brain. The game has allowed me to shut off the outside world for a moment and take the time to challenge that problem solving part of my brain. Thinking out moves ahead helps with your planning skills. I'm no expert on the benefits of chess but there are some great articles to read on the ThinkFun site about the benefits of chess.
I enjoy the game very much and I will likely have some download codes to give away to interested parties. The app works on iPad, iPhone and iPod touch. You can also get the game in the Android market.
Disclosure: I was given the download code for this app from ThinkFun. The opinions of the game are 100% mine. Please read the official press release on the game below.
ThinkFun's Award Winning 'Solitaire Chess' Mobile App Now Available for Android
A Creative Twist Combines Two Classic Games for a Fast Fun Challenge You Can't Put Down
ThinkFun® Inc., a leading creator of addictively fun, mind-sharpening games, announces that it's latest mobile game, 'Solitaire Chess by ThinkFun' is now available on the Android platform.
The Solitaire Chess app, which has been a top educational game for iPhone, iPod Touch and iPad since January 2011, was recently awarded the Parents' Choice Gold Award for mobile apps from the nation's oldest non-profit guide to quality children's media and toys.
"We're delighted to see the reception Solitaire Chess has received – both as a board game and a mobile app," said Bill Ritchie, CEO of ThinkFun. "Our goal is to create mind challenging games you simply can't put down, and Solitaire Chess hits that mark. It's simple to learn, quick to play, and totally addictive – and while you're having fun, you're improving your strategic thinking skills."
Solitaire Chess is simple for beginners to learn and challenging for the most advanced chess masters. The game can be started without any previous knowledge of chess. Solitaire Chess teaches players how traditional chess pieces move as they progress through the levels.
ThinkFun's growing family of mobile apps also includes the highly popular Rush Hour™ game, based on one of the world's most successful logic puzzles, which has over 1.1 million downloads and counting.
Solitaire Chess for Android has been developed to work on all Android versions, from 1.6 to Android 3.0 Honeycomb, with support for the latest Android tablets including the Motorola Xoom, Asus Eee Pad, and Samsung Galaxy Tab 10.1.
Solitaire Chess for Android is now available in both a free version, with 40 challenges across 4 levels of difficulty, and a full version with 400 challenges for $1.99.
The app is available by searching for 'Solitaire Chess' in the Android Market. The Apple version is available in the App Store.
ThinkFun's award winning Solitaire Chess™ board game is currently available from major retailers for $19.99.
About ThinkFun
ThinkFun Inc. is the world's leader in addictively fun games that challenge your mind. Over 25 years ago, ThinkFun was founded with a dream to change the world through play. We continue to expand on that dream every day with games, brainteasers, mobile apps, online games, and global education programs. Visit the ThinkFun website to learn more.
ThinkFun, the ThinkFun logo and Solitaire Chess are trademarks or registered trademarks of ThinkFun Inc. All other trademarks are property of their respective owners. Copyright © 2011 ThinkFun, Inc. All rights reserved.
Copyright (c) 2020 BenSpark Family Adventures