Photo-A-Day #2027
Today was my last day with the Chevy Tahoe Hybrid. I got to drive this car from last Friday till today. Tomorrow it gets picked up. I am grateful to the folks at Chevy for letting us take the car and use it for the past few days. It was so much fun to drive on our road trip to Pennsylvania. I recorded two videos while with the car and I wanted to talk more about it today, not so much because I was given the car to use for free and that I have any obligation to talk about it but pretty much because I got to try this car out and wanted to share my observations with you.Driving the car is great, when I got back into my own car I was very sad with how tiny it was and how I now had to use the speakers on my phone to listen to my podcasts and I had no control of the column from the steering column. So many options that my own car does not have. However, I would certainly not be able to afford the options found on the Chevy Tahoe Hybrid. I looked at the sticker price and drove way more carefully than I had already been doing. The model we were driving was about $53,000. It had so many options though, not as tricked out as some of the cars I drove at Modern Media Man however, but still some decent stuff. There was the XM/Sirus Satellite radio. I didn't think I'd want that but I love that there are channels that just do comedy bits. I love that. However I spend most of my time listening to podcasts. So, for me the USB connection would have been perfect, I'd load up my iPod Touch with podcasts and keep that continually plugged into that outlet.
The Tahoe had plenty of room in it. I mentioned that I hauled a bed home form New Hampshire in it. Removing the seats and putting them back in was a breeze. It is easy to configure the seats for additional use. Here is what I was hauling.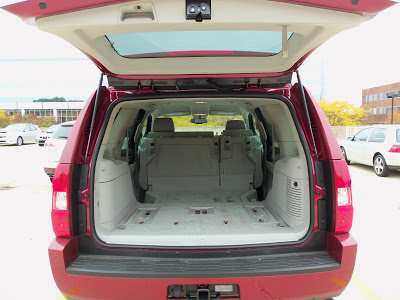 Look at all that room.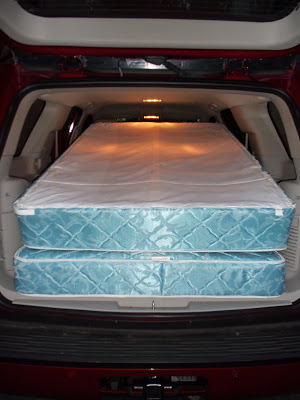 Filled up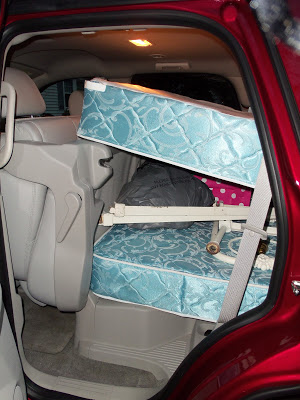 More stuff.
Things I really liked were the seats, the way it handled, the power and I actually liked being up high on the road. I did not get stiff while driving it either. I have driven to PA so many times and each time I've gotten stiff and tired from the drive, not this time however. I was so comfortable in the seats.
There were tons of other cool things too like the ability to flip the mirrors in when you park the car. Doing that is great to avoid having your mirrors ripped off on the street or in a parking lot. Then the seats were also heated with variable levels of temperature. A remote starter was also part of the options.
Overall the whole experience was fantastic. The only things that would prevent us from buying one of these on our own is the cost of the Tahoe is beyond our range and then filling up the tank on that would knock out our whole gas budget for months. Being a hybrid was helpful in allowing the car to get a decent mileage for a large vehicle. The average I got was 19.5mpg during the test. Certainly not a commuting car but maybe when we get into the whole sports thing with Eva it would be a good option. I liked the car, I'd say go and test one out and if you need a car for the whole family to ride in comfort then yeah this would be a great option.
Here is a video that I made of our trip.
What is Drew Shooting with?

Model: KODAK EASYSHARE M580 DIGITAL CAMERA
ISO: 400
Exposure: 1/3 sec
Aperture: 3.4
Focal Length: 5.2mm
Flash Used: No

Disclosure: I received this camera and the Kodak PlayTouch and 2 Kodak PlaySport HD Waterproof Video Cameras for free from Kodak in return I use them and blog about them. The opinions about them are 100% mine and the links are affiliate links.
How Does Drew Protect His Photos?

Model: GoFlex™ Ultra-portable Drive CAMERA
Interface USB 2.0 or 3.0
Capacity: 320GB – 1.5TB
Automatic Backup Software:PC & Mac:
Weight (typical): 150g (.33 lb)
Software: Pre–loaded backup software with encryption

Disclosure: I received a number of Seagate devices including the Seagate FreeAgent GoFlex 1 TB USB 2.0 Ultra-Portable External Hard Drive, GoFlex Home, GoFlex TV and GoFlex Net. I'll be talking about these devices in the coming months. The opinions about the devices are 100% mine and the links are affiliate links.
Copyright (c) 2020 BenSpark Family Adventures