Photo-A-Day #2452
Christmas started off with a not too early morning. Allison went downstairs and fed Andrew and also made some cinnamon rolls. Eva and I watched part of a Curious George Christmas while they baked up. When they were ready we went downstairs to enjoy our Christmas morning tradition. Eva played Santa and picked out gifts for… herself mostly. She did bring around gifts for Andrew, Allison and me too. We had a wonderful casual morning and enjoyed being together.
We packed up and headed over to my parent's house for noon. There we spent time with my parents, sisters, brothers-in-law and later Uncle Howard, Nana Bonnie, Grandpa Rick, Uncle Jim, Uncle Richard, Aunt Donna, Carissa, Sam and even Uncle Mike. We had a nice time and Eva and Andrew got spoiled rotten. Eva was so excited. She played Santa at Mem's house as well. She had the same M.O. too. She looked for those presents that had her name on them. She was very good but a couple of late nights and too much sugar and presents she had a little moment of meltdown, nothing huge just too much of a good thing is all. It was all good at the end of the night when Eva got to visit with Grandfather's Rudolph on the front lawn.
We had a wonderful time and are so blessed to have such a wonderful, thoughtful and generous family.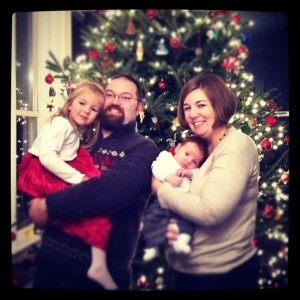 Copyright (c) 2020 BenSpark Family Adventures