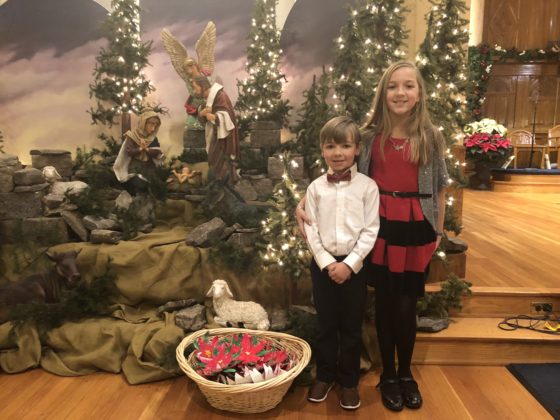 Photo-A-Day #4639
Christmas Eve was a wonderful day. We spent the day at home until the late afternoon. Then we went to the Christmas Eve Mass with my parents and sister. We actually got there early enough this year to have seats in the pews instead of the folding chairs in the back. It was a very nice Mass with great music. Eva sang her heart out during "Go Tell It On the Mountain." She belted it out loud enough to have some folks turn right around to notice. After Mass we took the annual photo of the kids with the manger scene.
We then had a nice family dinner with my parents, sister and brother-in-law. Allison made her Christmas Chicken stew. We enjoyed good conversation and fun. Erik gave me a special tin of Garrett popcorn. He said it was supposed to be in a pink bucket but instead it was a Chicago Bulls one. While the pink one would have been funnier, it didn't matter since the popcorn is what I'm excited about. It was nice of him to remember that I liked it so much.
After dinner we showed everyone our crazy huge MAX TRAXXX race track that we made. Everyone was impressed and gave it a try. I got some hair and cat fur stuck in one of the new cars and learned how to completely disassemble it and reassemble it. Then it was time to put the kids to bed for Christmas.
Copyright (c) 2020 BenSpark Family Adventures